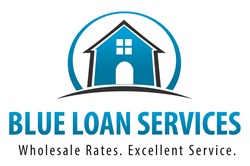 San Diego, CA (PRWEB) October 23, 2013
Blue Loan Services is a full service mortgage company that has been helping residents of California to find the best loan products and home loan rates for many years. The company, headed by the father and son team Robert and Brandon Blue, has been dedicated to serving its customers with honesty, integrity and competence. The Blue Loan Services team of mortgage professionals operates with the goal to provide home loans to its clients while providing them with the lowest wholesale interest rates and closing costs possible. As refinance specialists the Blue Loan Service team has helped many California homeowners to find the best rates and save thousands and even hundreds of thousands of dollars on their mortgages. Recently posted 5 star reviews attest to how effective the team it is at finding and executing the best refinance loans available.
One of these recent Blue Loan Services reviews says: "We had five re-financings done by Mr. Brandon blue of Blue Home Loans. We found him to be very reliable and honest. He was quite responsive to our queries at various stages of re-financings. His refinancing cost estimates were reliable and matched those with the closing statements. We highly recommend him to anyone for their refinancing needs without any reservation. Balbir S. Narang,Professor Dept. of Aerospace Engineering San Diego state University, San Diego"
A client hailing from Santa Clara, California, says of Blue Loan Services: "Great experience! After a frustratingly disastrous attempt to refinance through our then existing mortgage company I was referred to Brandon by a coworker. Brandon assured me that the process needn't be so unpleasant and we quickly got started--and it couldn't have gone smoother. Every question I had was quickly answered and he and his team were there to help every step of the way."
Another client who completed a refinance with Blue Loan Services says in their review: "From the very start of my loan process Brandon Blue was very professional and personable. He answered my phone calls and e-mails either immediately or as soon as my information was available. The entire process was seamless and efficient including the appraisal and all other individuals involved. I was able to re-fi my home mortgage and reduce my rate from 5.375% to 3.75% - A $703 a month interest savings and $200K savings over 10 years! The entire process from date of "lock" to loan funding took less than 30 days. If you want your loan to be completed professionally and in a timely manner I highly recommend Brandon Blue of Blue Home Loans and his Team!"
These are only a few of the many reviews that give the company the highest rating for their quick, easy and professional home loan refinance services. The California mortgage company can help those who wish to lock in the current rates to find the best possible loans for their situation and work quickly to get approved so that they can avoid higher rates down the line. Their fast online loan application and documentation portal makes it simple for clients to submit their application and keep track of their loan's progress. With a reputation for fast, reliable and courteous service, the company's team of mortgage professionals can be especially useful during this time of rapidly changing mortgage rates.
For more information on how Blue Loan Services can help California home loan borrowers get approved for their home purchase loan or refinance quickly, please visit BlueLoanServices.com or call 1-888-929-BLUE (2583) to speak with an experienced mortgage professional.