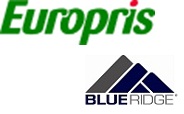 ...Blue Ridge® stood out from the competition, even larger companies with long-established systems, with the added benefit of being easier to implement.
Marietta, GA (Vocus/PRWEB) April 05, 2011
Blue Ridge, global leader in demand and replenishment solutions, announced today that reseller agent Inventory Investment AS, leading Norwegian experts on inventory replenishment has been selected by Europris AS to implement Blue Ridge's best-of-breed solution, CLARITY Replenish to optimize replenishment and inventory planning for Europris' global distribution operations.
The technology solution developed by US-based Blue Ridge®, CLARITY Replenish is already in widespread use at several prominent retailers and wholesalers throughout the US and Europe. "At Inventory Investment we are particularly pleased to be chosen as a partner to Europris," said Sverre Rosmo, CEO of Inventory Investment, "Profitable inventory and service levels are key to Europris' success and we expect CLARITY Replenish to contribute to a profit breakthrough for the company," Rosmo continued, "We are looking forward to the project and to becoming a long-term partner and contributor to Europris' future success."
"Optimized replenishment and supply chain management are strategically important to strengthening our competitive position and to support the strong growth of Europris," said Øyvind Skalstad Larsen, Logistics Director at Europris. "The CLARITY Replenish tool from Blue Ridge® stood out from the competition, even larger companies with long-established systems, with the added benefit of being easier to implement."
Management's decision was consistent with their goal of selecting a system that not only had the proper approach, science and functionality to provide the benefits, but also with a user experience that assured that benefits could be delivered by the demand planning and replenishment team. "The system was also the users' favorite both because of its functionality and its user friendliness," continued Larsen, "Additionally, the consultants at Inventory Investment as are renowned for implementing CLARITY Replenish and similar replenishment tools in a large number of successful projects. We are confident they will deliver an effective implementation to assure that we reap the significant benefits this solution will give us."
About Europris
Europris (http://www.europris.no) operates its discount retail format through nearly 200 fully owned and franchise operated Europris stores across Norway and Iceland. Europris offer a large and exciting assortment within grocery, hardlines, gifts, decorative products, kitchenware, textiles, toys and more. In addition to own brands, Europris also market well known profile brands.
About Inventory Investment
Inventory Investment focus on optimizing buying and replenishment and has through a large number of projects in the Nordics as well in EMEA gained an extensive experience and expertise within replenishment and effective buying. Together with Atlanta based Blue Ridge they form up one of the largest professional teams focused on replenishment globally and distributes CLARITY Replenish, a state of the art replenishment system based on the world's most wide-spread best practice within buying – "The Seven Steps of Buying".
About Blue Ridge
Blue Ridge partners with distributors, retailers and VMI manufacturers, helping them align inventory levels with service needs. The company offers complete Software and SaaS solutions that include technology, support and education—that are delivered by a team with first-hand experience as replenishment buyers and inventory management professionals. Since its inception, Atlanta, Georgia USA-based Blue Ridge has delivered the game-changing results others only promise. For more information visit: http://www.brinv.com.
# # #