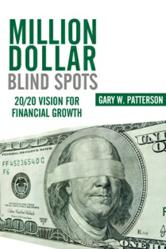 Mr. Patterson works with leaders to uncover blind spots to make the best business decisions and dramatically accelerate correct fiscal leadership decisions.
Atlanta, Georgia (PRWEB) January 02, 2013
Fiscal Leadership Change and Enterprise Risk Management (ERM) expert and author, Gary W. Patterson, also known as the FiscalDoctor®, will participate in a webinar sponsored by LogFire and Blue Ridge titled Million Dollar Blind Spots in Your Supply Chain.
Retailers and business professionals alike can prepare for NRF 102nd Annual Convention & EXPO with this common sense, value-added approach to risk management that helps executives not only unearth key risk areas, but in the process, identify formerly invisible opportunities leading to growth and profitability. Those interested in attending can register on the Blue Ridge site. Attendees of this session will walk away with:

a laser like focus on the strategic areas they need to address to reduce or minimize risks
a roadmap that will help them develop new revenue streams
a practical, actionable process that they can implement the day after this presentation
Mr. Patterson will be in attendance at the NRF 102nd Annual Convention & EXPO for a special free book signing of his new book, Million Dollar Blind Spots on Monday, January 14th at 10:00, 1:00, and 3:00 in the LogFire booth, Booth C226, on Level 1 of the Javits Convention Center. LogFire is a leading cloud-based supply chain execution and warehouse management vendor who is exhibiting at this year's NRF conference.
The retail community gathers each year to network, trade ideas and announce ground-breaking new solutions at the NRF Annual Convention & EXPO—Retail's BIG Show. More than 25,500 retail industry professionals attended the event in 2012, making it their biggest and best show ever. Companies interested in a free EXPO pass, compliments of LogFire can register here.
Mr. Patterson will also be available on Sunday and Monday at NRF for customer discussions which can be arranged directly or through any of the LogFire or Blue Ridge executives attending the event. Blue Ridge is a leading cloud-based supply chain planning vendor specializing in driving demand planning, forecasting and replenishment improvements for companies around the globe.
Mr. Patterson works with leaders to uncover blind spots to make the best business decisions and dramatically accelerate correct fiscal leadership decisions. This helps leaders gain control of their financial destinies and capitalize on hidden high return opportunities, while limiting their exposure to risk. Mr. Patterson, a Big 4 CPA with a MBA degree from Stanford University, speaks regularly on topics including corporate governance, risk management, strategic contingency planning, achieving corporate financial goals, and building long-term wealth.
About LogFire
LogFire is a leading provider of managed services and innovative cloud-based supply chain execution solutions for retailers, e-commerce companies, consumer goods manufacturers and distributors, and logistics service providers of all sizes. LogFire combines strong supply chain domain expertise with flexible cloud-based solutions and Software-as-a-Service (SaaS) pricing. This new paradigm in supply chain management enables companies to focus on their core business processes, while LogFire focuses on increasing efficiencies, reducing costs, ensuring quality, and monitoring and controlling Supply Chain Execution operational processes. For more information visit http://www.LogFire.com
About Blue Ridge
Blue Ridge leads the way in enterprise-class Software-as-a-Service supply chain solutions. Blue Ridge solutions and services turn inventory investments into cash flow and revenue generation opportunities. The company's robust cloud-based solutions deliver a tightly-integrated, yet flexible architecture for demand analytics, forecasting, planning, replenishment, SKU rationalization and other demand-driven optimization solutions to provide a sound foundation on which companies can solidify and enhance their supply chain initiatives. To find out why global supply chain leaders such as Burris Logistics, CRP Industries, Europris, Home Hardware, K. Ekrheim, Lovenskiold, Martin Brothers and Procurator trust Blue Ridge and its unmatched expertise as their inventory alignment partner, visit http://www.blueridgeinventory.com
About Gary W. Patterson
Gary W. Patterson, president & CEO of FiscalDoctor®, has been interviewed or presented internationally at over 70 of the leading and most prestigious publications and groups in the world and worked with over than 200 companies spanning supply chain, technology, transportation, construction, and service industries.
Mr. Patterson is the author of four books, Million Dollar Blind Spots: 20/20 Vision for Financial Growth, Stick Out Your Balance Sheet and Cough: Best Practices for Long-Term Business Health, The Fiscal Fitness System Understanding Balance Sheets, Income Statements, and Cash Flow and Find Your Million Dollar Blind Spots: 7 Thing You Need to Know, available through most book stores on special order, or online at Amazon.com in hardcopy and Kindle format. Visit his website at http://www.fiscaldoctor.com and "free" fiscal fitness test at http://www.fiscaldoctor.com/fiscaltest.html. Mr. Patterson can also be reached directly at +1(678)319-4739.