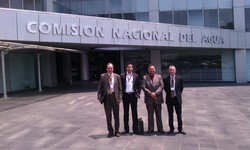 CWP-121 is an organic/natural solution to remove all contamination from wastewater without any harm to humans, the environment or animals. It is a completely safe and natural product
Toronto, Ontario (PRWEB) April 26, 2011
Blue Gold Canada the leader in nano and bio technology products to clean tomorrow's water announced they have signed a memorandum of understanding (MOU) with Hasar's Grupo Ecologico that outlines plans to install a wastewater treatment plant at the Hasar's landfill in Guadalajara Mexico.
The Blue Gold / Dove Biotech wastewater treatment plant will have the capacity to treat 50,000 litres of water per hour and will use a proprietary line of Organic/Natural products to remove the contamination from the leachate pools. The treated effluent will then be clean for agriculture use.
The project is scheduled to be installed later this year and to be used as a showcase to expand the Blue Gold Biotech brand in Mexico.
"CWP-121 is an organic/natural solution to remove all contamination from wastewater without any harm to humans, the environment or animals. It is a completely safe and natural product," said Mr. Justin Singh, Blue Gold Co-Founder.
"We are very pleased to have this opportunity to work with such a reputable and well established partner; Hasar's Grupo Ecologico on this 'game-changing' implementation, which is the first of many Blue Gold water treatment solutions to be implemented throughout Mexico and North America," states Mr. Dean Gendron, CEO of Blue Gold Canada. "The combination of Blue Gold and Dove Biotech has created a new level of completely organic and fully effective water treatment solutions that offer an effective and natural solution to the world's projected future water treatment problems. In tandem with Hasar's Grupo Ecologico, Blue Gold will further validate the existing scientific data on the effectiveness of CWP-121 as illustrated in other difficult water situations globally," says Gendron. He goes on to state that, "not only are we convinced that we will replicate this solution throughout Mexico, this contract will serve as our beachhead into North America".
About Blue Gold:
Blue Gold was co-founded by Nigel Greening, Derek Blackburn, Justin Singh and Raj Kurichh to bring clean water solutions to the world. Blue Gold has partnered with Dove Biotech, the global leader in nano and bio technology to commercialize Dove's suite of organic and natural, nano biotechnology solutions to clean the worlds water. Blue Gold's HQ is located in Toronto, Ontario. Blue Gold Canada has begun the process of listing on the TSX:V. For more information please visit http://www.bluegold.ca.
# # #