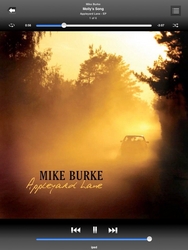 "It just works. I can sit by my pool and change songs all day long. A best buy at five times the price.", iTunes Review
Brewster, MA (PRWEB) June 28, 2010
Blue Atlas Technology, LLC has just announced that Tango Remote Music Player HD Version 2.0 is now available on the iTunes App Store. Tango Remote can control the music playing on a users' iPhone, iPod Touch or iPad, giving the user the freedom to access their music remotely.
It was seeing the need for an application like Tango Remote that inspired Blue Atlas developer Anthony Amundson, to create Tango Remote Music Player HD. "I was over a friend's house last year and his iPhone was connected to his whole house sound system. Every time he wanted to change the music, lower or raise the volume, etc he would have to go to the iPhone and manually change it. I said to him there must be an App for that!" explains Amundson.
After checking in the App Store, Amundson discovered there was nothing like it. With a background in developing a family of PC based remote control products, Amundson knew that he could create an application that would free users from the constant back and forth to adjust the music on an iDevice.
The Tango Remote app works on any two devices that have the application installed. One works as the player and the other serves as the remote. That means that an iPhone, iPod Touch or iPad can fulfill either roll and interact with either of the other two types of devices. Tango Remote can control the volume, start and stop a song, skip forward or backwards and much more.
Tango Remote Music Player HD gives users an easy way to perform not only the regular tasks that are typically associated with a remote device but also offers some unique extras. For example, whereas an iPod stops when a playlist is finished, the Tango Remote app will continue on to the next playlist and the next. It's optional of course. The user has full control of all the functions and can look at the song queue to see what tunes are lined up to play, or what was that last song that played, remotely of course.
These are just a few of the features available in Tango Remote Music Player HD 2.0:

Access and control all iPod music remotely
Search or browse music library via artist, song title, album or genre
Just select a song and it starts playing
View entire song queue, not just album playing.
Works on iPhone, iPod Touch and iPad, with one device playing music, the other acting as the remote. Just install Tango on both devices
Listen to all playlists in continuous play - sequence optional
Remotely create a playlist – add tunes, move them, etc.
Advanced caching techniques stores song info and album artwork for quick response
Audio scrubbing
Password protection
Bluetooth and Wi-Fi supported.
Shake once to skip forward, twice to skip backwards
Automatically discovers remote devices
Music continues to play when Tango exits
To learn more about this amazingly unique app, visit the Tango Remote Music Player HD 2.0 page on iTunes. Easy, direct links are available below.
About Blue Atlas Technology, LLC
Blue Atlas Technology LLC is a mobile applications development company. The company's first product, Blue Atlas Broker released in 2008, was the first Real Estate App with an interactive map for displaying and finding property using GPS. Tango Remote was released in 2009 and is only one of a small number of remote control apps for your iPhone, iPod Touch and iPad music.
Device Requirements:

iPhone, iPod touch or iPad
Requires iPhone OS 3.0 or later
1.9 MB
Pricing and Availability:
Tango Remote Music Player HD 2.0 is only $0.99 (USD) and available worldwide exclusively through the App Store in the Music category. Promo codes are available for qualified reviewers. Please specify the website or blog you represent when making your request.
Purchase and Download
http://itunes.apple.com/us/app/tango-remote-control-music/id345279970?mt=8
Screenshots and App Icon
http://s837.photobucket.com/albums/zz291/blueatlastechnology/Tango%20Version%202%20ScreenShots/
Tango Remote Music Player HD 2.0
http://www.tangoremote.com/
CONTACT
Anthony Amundson
Media Contact for Blue Atlas Technology, LLC
tony(at)tangoremote(dot)com
###