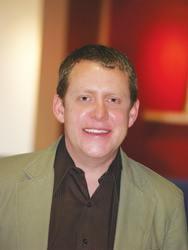 The firm's unique strengths in creative design, web and mobile technologies is exhilarating for me to work alongside, and I know we all are eager to begin writing a new chapter of success for Blue Clover and the clients we are lucky to serve.
San Antonio, TX (Vocus) February 13, 2010
Blue Clover - an On and Off-line Branding™ firm fusing advanced media such as web, mobile and social technology with experiential marketing, strategic design, mainstream media, public relations and traditional marketing communications - has named Tim Hayden as its Chief Strategy Officer and partner.
Long recognized as an experienced and innovative communications advisor to corporate brands, government and non-profit organizations, Hayden has produced major brand campaigns for Dell, IBM, Oracle, Advanced Micro Devices (AMD), Nintendo and Bacardi USA.
Already working with social and mobile media to provide clients with more insightful data to yield more powerful marketing results, Blue Clover is determined to ensure that clients are meaningful in today's conversational landscape. Besides the new capabilities, Blue Clover has significantly changed internal processes and procedures that drive efficiency and speed to better deliver positive results for its clients and ensure a remarkable experience.
As Chief Strategy Officer, Hayden will be responsible for working with new and existing clients to create a blueprint for the measured growth of their brands, especially in the areas of mobile and social media, and "live" engagements occurring in event and retail environments. This includes everything from research design and implementation within today's changing consumer behaviors to facilitating the strategic and creative development process.
Prior to joining Blue Clover, Hayden served as CEO and co-founder of Austin-based GamePlan Marketing, where he combined his experience in interactive marketing, entertainment and media consulting to help brands build meaningful dialogue with audiences through off-line experiences, mobile and social media. Founded in 2003, GamePlan and Hayden formulated an "experiential" approach to marketing that compounds the power of life's experiences with advanced media technologies to build successful engagement within the B2B and consumer marketplaces. The agency has also worked alongside high profile artists, executives and properties such as Steve Ballmer, Hector Ruiz, Jeep King of The Mountain professional bike racing series, AVP Professional Volleyball Tour, Austin City Limits Music Festival, Justin Timberlake's FutureSexLoveSound international tour and the Sundance Film Festival.
In 2004, Tim conceived and produced "Operation Blueshock," a successful guerilla marketing stunt for client Bluetooth Special Interest Group during the 2004 International Consumer Electronics Show in Las Vegas. To date, the campaign is heralded as "The Greatest Tradeshow Marketing Stunt Ever" by the editors of MarketingSherpa. In the years since, GamePlan has produced Bacardi USA's first social media/event marketing campaign ("In the Mix", 2008), Dell's first social media widget (Telluride Film Festival), AMD's most-viewed online video (650K+ views), and has achieved other innovative accomplishments.
Prior to GamePlan, Tim was a founding team member and Vice President of Sales for NION Interactive Solutions.
A popular speaker on advanced media, Tim's speaking and coaching engagements include Stanford University's Media X program, Innotech, Inbound Marketing Summit (Boston and Dallas), University of Texas guest lecturer, Austin Technology Council Breakthrough Series, and McCombs Marketing Challenge, to name a few.
Tim has received several personal awards including "Austin Under Forty" Entrepreneurship Award and Greater Austin Chamber of Commerce "Communications Volunteer of the Year." He is currently a member of the Austin Technology Council Board of Directors; International Experiential Marketing Forum (Advisory Board Member); Austin Sports Commission (Board of Directors); and Austin Meals on Wheels and More (Chair-Elect, Board of Directors). Tim holds a Bachelor's degree in Political Science from Texas State University.
"Joining Blue Clover is an opportunity to work with an innovative leader in today's advanced media world. The firm's unique strengths in creative design, web and mobile technologies is exhilarating for me to work alongside, and I know we all are eager to begin writing a new chapter of success for Blue Clover and the clients we are lucky to serve," said Hayden.
"Blue Clover has stormed into 2010 with new capabilities to help current and prospective clients better build their brand and engage audiences in a challenging marketplace with the addition of Tim Hayden," says José B. Sena, president and CEO, Blue Clover. "With Tim, Blue Clover expands its footprint of talent and resources to Austin, New York, San Francisco and points in between. It also solidifies our commitment to innovation and being on the leading edge of change in our industry."
BLUE CLOVER: San Antonio-based Blue Clover was established in 2003 by marketing experts and partners Sena, Juan Barrera (Executive Creative Director), and Chris Gilbert (Finance Director) and the recent addition of Hayden as partner. The growing staff now includes 18 full-time creative, technology and management professionals with extensive traditional and multicultural marketing, public relations, media planning and buying, strategic planning, and web-based communication experience from around the world. Within the past two years, the firm has opened offices in Mississippi as well as Austin and Dallas, TX.
This innovative talent and relentless drive has distinguished Blue Clover as an award-winning firm, including a place in PRINT Magazine's Regional Design Annual (the most comprehensive competition annual), four awards in the 2009 Art Directors Club of Houston Awards Show (including the highest award: one of only five Judges' Picks); San Antonio Business Journal's Best Places to Work, San Antonio Business Journal's Fast Track list for two years; Emerging Business Award from the San Antonio Hispanic Chamber of Commerce; the San Antonio Business Journal's prestigious "40 Under 40" award for Sena; and 2008 and 2009 Association for Women in Communications Proliner Awards for national Public Relations campaigns.
Blue Clover's past and present client list boasts more than 120 local and national clients, including Physicians Health Choice (a physician-owned company, PHC is a Medicare Advantage organization contracted by Medicare and is headquartered in San Antonio, Texas); Hotels & Preference (a network of privately owned properties with more than 120 four- and five-star hotels and resorts throughout the world); website and online marketing strategy for IBC Bank (Laredo-based bank with $12.1 billion in assets); a website design for San Antonio Spurs (four-time National Basketball Association champions); Time Warner Cable (second-largest cable operator in the U.S.); a website design project for Clear Channel Radio (owns and operates more than 1,200 radio stations in the United States); Bank of San Antonio (locally owned bank with $142 million in assets and services that include commercial banking, private client services, real estate financing, treasury management and personal banking); MISYS (an application software and services company that provides innovative, integrated solutions and services for the banking, treasury and capital markets and health care industries); Terramark (leading Houston-based commercial and residential real estate development and home building, including Espada community in south San Antonio); San Antonio Economic Development Foundation; TBG Partners (largest landscape architects and planning firm in Texas); Arquitectonica (international architecture, interior design and planning firm); Yantis Company ($100 million construction company; listed as one of the "Top 50 Private Companies" in San Antonio); Cross & Company (San Antonio-based commercial real estate company with more than 45 properties totaling approximately 4.2 million sq. ft.); Waggoner Engineering, Inc. (serves public agencies and private corporations across the southeastern U.S. discovering innovative infrastructure solutions); and USAA (largest private insurance and banking company in the nation).
More information on Blue Clover is available at (210) 223-5409 or http://www.blueclover.com . Follow Blue Clover on Facebook and Twitter.
Media Contact:
Jeanne Albrecht
(210) 223-5409
# # #