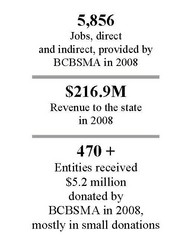 Boston, MA (Vocus) September 12, 2009
Blue Cross Blue Shield of Massachusetts (BCBSMA) generated nearly $1.6 billion in economic benefits for Massachusetts last year, accounting for more than 5,800 jobs, tens of millions of dollars in philanthropy and $216.9 million in revenue to the state government, a new study has found.
The economic impact report, conducted by Tripp Umbach , the nation's leading provider of such studies, details for the first time how the Commonwealth's largest private health plan is also a vital economic engine for the state.
"For 72 years, our mission has been to provide our members with access to safe, effective, and affordable health care , said Cleve Killingsworth, BCBSMA's Chief Executive Officer. "The findings of this study clearly demonstrate that fulfilling our mission also helps drive the state's economic health and vitality."
The research found that BCBSMA's overall economic impact in Massachusetts is nearly $1.6 billion, including $683 million in direct benefits and $887 million in indirect benefits from suppliers of goods and services to BCBSMA.
Similarly, the report found that BCBSMA contributed 5,856 jobs to the economy in positions that span the entire economic spectrum, with 3,670 people directly employed in Blue Cross offices throughout the Commonwealth.
As a not-for-profit business, Blue Cross Blue Shield of Massachusetts contributes significant revenue to the Commonwealth. In 2008, the report found that BCBSMA contributed a total of $216.9 million in direct and indirect revenue to the state. This consists of $33.1 million in direct tax payments, $84 million in indirect taxes, $79.9 million for the Health Safety Net Trust Fund (formerly the uncompensated care pool), and a $19.9 million payment to help cover the cost of health reform. In addition, BCBSMA paid $39.2 million in taxes to the federal government in 2008. This consists of $19.5 million in federal income tax and $19.7 million in FICA tax.
The direct benefits of BCBSMA's community involvement were felt throughout the Commonwealth in 2008. Here are some highlights:

Direct contributions of $5.2 million to more than 470 charitable organizations, the majority of which were valued at $2,000 to $10,000 each, largely through sponsorships of charitable events and activities.
BCBSMA employees contributed more than $7.4 million in donations and volunteer services to local charitable organizations.
Beneficiaries of BCBSMA giving ranged from the Greater Boston Food Bank and Project Bread to Health Care for All and the United Way of Massachusetts Bay.
The Blue Cross Blue Shield of Massachusetts Foundation awarded $4.49 million in grants in community-based organizations. Since its inception in 2001, the Foundation has made approximately $30 million in charitable contributions to more than 270 organizations that expand access to health care for low-income, vulnerable and uninsured residents.
BCBSMA is a leader in improving the quality and affordability of health care, making significant investments in eliminating waste, duplication and inefficiency. Among those investments the report singled out: $590 million in incentives to physicians and hospitals to improve quality and effectiveness, $60 million in community initiatives such as the Massachusetts eHealth Collaborative and $9 million to collaborative efforts such as Healthcare Administrative Solutions Inc., a non-profit working to reduce administrative complexities and inefficiencies in health care.
Blue Cross Blue Shield of Massachusetts (http://www.bluecrossma.com) was founded 72 years ago by a group of community-minded business leaders. Today, headquartered in Boston, BCBSMA provides coverage to approximately 3 million members. BCBSMA believes in rewarding doctors and hospitals for delivering safe and effective care, and in empowering patients to take more responsibility, become educated health care consumers and become stronger partners with their doctors. Blue Cross Blue Shield of Massachusetts is an independent licensee of the Blue Cross Blue Shield Association.
Contact:
Jenna McPhee
(617) 246-7412
Carrie Kennedy
(412) 973-3835
# # #