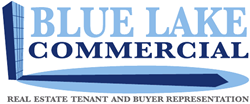 Utilizing Blue Lake provides extensive market knowledge and credible market competition creating important leverage throughout negotiations
Minneapolis, MN (PRWEB) February 03, 2015
Exclusively representing the sole interests of commercial tenants and buyers, Blue Lake Commercial Real Estate is unlike traditional "full service" commercial real estate firms. Blue Lake has no landlord obligations, and they do not list commercial property for lease or sale on behalf of owners and landlords.
Blue Lake Commercial Real Estate announces that they're now offering a no-cost lease consultation and review to all new and current clients.
"The biggest mistake that tenants make is entering into a lease renewal without broker representation. This significantly reduces leverage in lease negotiations. Utilizing Blue Lake provides extensive market knowledge and credible market competition creating important leverage throughout negotiations," says owner Darrin Dufresne.
Dufresne believes there is a coherent conflict of interest when commercial real estate firms represent both landlords and tenants. Blue Lake realizes that tenants and buyers of real estate need representation and advice to ensure the tenants interests are also being represented.
Dufresne began his career at CB Richard Ellis, the world's largest full service commercial real estate company. Dufresne leased a 3.5 million square foot commercial real estate portfolio, representing some of the world's largest commercial owners. Darrin also represented several large tenants in the Minneapolis area. During a 12 year tenure, Darrin was consistently a Century Club and Millennium Club winner, based on annual production, and a Cornerstone Award winner for both exceptional client service and teamwork.
Dufresne is an active member of NAIOP (National Association of Industrial and Office Properties), MNCAR (Minnesota Commercial Association of Realtors), and NAR (National Association of Realtors).
Blue Lake provides a wide range of services, including: tenant representation, lease renewal representation, buyer representation, advisory and consultative services, detailed financial analyses of lease proposals, broker opinion of value for building/land, build-to-suit client representation, subleasing of excess space, disposition of excess real estate, and more.
For more details, contact Blue Lake Commercial Real Estate:
Blue Lake Commercial
5275 Edina Industrial Blvd. #105
Edina, MN - 55439
W (952)405-8292
C (612)978-3011
F (952)392-1000 Email:
JGM Properties owns and manages Pakwa Business Park as well as 23 other suburban Minneapolis office and warehouse properties.
JGM was founded in 1980 and works with over 200 tenants, including Blue Lake Commercial Real Estate to provide them with office, warehouse, and retail space for rent in Minnesota.