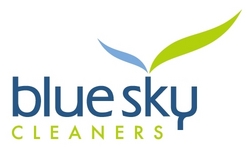 Blue Sky Cleaners is the only completely non-toxic dry cleaner in Seattle. Our process is better for the environment and you no longer bring toxins into your home, so it's also better for you and your family
Seattle (PRWEB) September 30, 2008
Blue Sky Cleaners is introducing Seattle's only toxin-free dry cleaning service. In a city known for its embrace of the environment, Seattleites are doing everything they can to protect the earth - and now they have a new, sustainable way to stay clean and look good.
Blue Sky uses dry cleaning alternatives such as liquid carbon dioxide (CO2) and wet cleaning technologies to safely clean a wide variety of fabrics. Under pressure, CO2 becomes liquid and is the best dry cleaning method on the market, according to leading consumer studies. To even better match the ethos of their discerning customers, Blue Sky is also offering free pickup and delivery using alternative-fuel vehicles.
Clean slacks and nice dress suits are still needed for meetings on global-warming prevention - and Blue Sky Cleaners has taken this idea and run with it.
"Blue Sky Cleaners is the only completely non-toxic dry cleaner in Seattle. Our process is better for the environment and you no longer bring toxins into your home, so it's also better for you and your family," said Mark Callaghan, CEO of Blue Sky Cleaners.
But it's not just for tree huggers. Unlike traditional dry cleaning, the CO2 dry cleaning process is safe on silk, wool, spandex, nylon, duvets, pillows and comforters, and leaves no chemical odor in clothes or chemical residue on skin. Plus, the method produces no toxic waste, pollution or contamination. Blue Sky Cleaners is the only 100% toxin-free, truly green dry cleaner in Seattle. Most other dry cleaners use toxic chemical substances, most often perchloroethylene ("perc") as their primary cleaning solvent. Perc has been banned in California, and New York, Texas and Massachusetts are proposing to ban perc as well. A few self-proclaimed "environmental" cleaners use a chemical solvent called GreenEarth, but even that solvent is a silicone-based product that is combustible and potentially carcinogenic.
Blue Sky has been operating in the Bay Area since 2005 and is Northern California's first and largest CO2 cleaner. Blue Sky Cleaners is committed to providing its customers with a superior dry cleaning method and a high level of service while protecting the environment. For more information, visit http://www.blueskycleaners.com.
Media Contacts:
Megan Kahn or Nate Cole-Daum, Nyhus Communications LLC for Blue Sky Cleaners,
(206) 323-3733, megan @ nyhus.com or nate @ nyhus.com
###