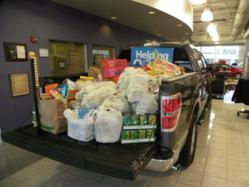 Thank you for all the support Impact receives from Blue Springs Ford!" Eileen Lane, Administrative Assistant, Impact Ministries
Blue Springs Missouri (PRWEB) April 03, 2013
Recently and for four years running, the employees of Blue Springs Ford once again showed their generosity. Food and cash donations were taken to give to local food pantry Impact Ministries. Impact Ministries is a wonderful organization located in Eastern Jackson County that provides food, and other household necessities to area residents in need. According to Eileen from Impact Ministries in the month of January alone Impact helped 495 households and 1660 individuals. These were the people just helped with food. Others were helped with diapers and clothing.
The employees of Blue Springs Ford were able to provide a truck load literally (see photo) of food, and $800 in cash! The cash is raised by purchasing raffle tickets at the dealership. The prizes for the raffle are purchased by Blue Springs Ford President, Bob Balderston. A presentation was made to Impact ministries by Debbie Peterson, Jan Duncan, Susie Peterie, Karl Porter and Blaine Balderston. "Thank you for all the support Impact receives from Blue Springs Ford!" Eileen Lane, Administrative Assistant, Impact Ministries.
These donations were made possible by the employees of Blue Springs Ford. Every year employees are asked to make donations of food, toys and cash to be given to local charities. This year the employees really came through for the cause, and made the collection a great success!