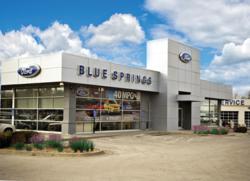 We have been giving back to the community for over 37 years and now we are excited to involve the community. You nominate, you vote, we donate, it's that simple
(PRWEB) December 27, 2012
Blue Springs Ford just launched a campaign to encourage community involvement called "Helping Others," where the community chooses which local charity will receive a $1,000 donation.
The purpose of the campaign is to get the community involved with a particular charity. Blue Springs Ford believes giving away $1,000 a month until donations total $250,000 is the best way to make a substantial impact on the community.
How does it work? Community members have the ability to nominate local charities on the company's website the first through the twentieth of each month. Following nomination, all approved contenders will be listed on the Blue Springs Ford website. Once a voter logs in to their Facebook account they can then "like" or vote for charities during the 21st to 27th of each month. Participants can "like" or vote for as many charities as they wish, but can only vote for each charity once. At the end of the month (28th-31st), the "likes" are tallied and the winning charity will be announced. The proposed total of $250,000 will ensure Blue Springs Ford to continue making donations to suggested charities for the next 20 years.
"We have been giving back to the community for over 37 years and now we are excited to involve the community. You nominate, you vote, we donate, it is that simple." Bob Balderston CEO and President of Blue Springs Ford
Blue Springs Ford is the first of its kind in the area to not only offer donations of this kind, but also to allow for the public to choose the appropriate charity in this format. All donations come directly from the company, but the process is rooted in the belief that keeping the community active in the decision process will help those most in need while also boosting community involvement.
For more information on Blue Springs Ford or the "Helping Others" Campaign, please visit http://www.kansascityford.com.