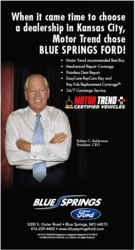 "Our whole organization is proud to be affiliated with Motor Trend Certified.
Blue Springs, Missouri (PRWEB) December 12, 2012
Blue Springs Ford has been designated as a Motor Trend Certified dealership - among the first in the United States chosen to participate in a new pre-owned vehicle certification program created for Motor Trend and powered by EasyCare.
A Motor Trend Certified designation ceremony will be hosted by Larry Dorfman, Chairman/CEO of EasyCare and VP, Executive Director, Motor Trend Certified, Ira Gabriel. The ceremony will also include Blue Springs Mayor Carson Ross, President of the Greater Kansas City Automobile Dealers Association Larry Carl, and President of the Missouri Automobile Dealers Association Sam Barbee. In addition, interviews concerning this designation for the dealership and what it means for consumers in the region will be made after the official ceremony.
The event will be held at Blue Springs Ford, 3200 South Outer Road Blue Springs, MO on Thursday, December 13, 2012 at 11am.
The new Motor Trend Certified program not only provides consumers with the assurance of quality and an exceptional buying experience, but also provides other benefits previously associated only with luxury purchases, including mechanical repair coverage, paintless dent removal, guaranteed key replacement, 24/7 concierge service, a 3-day or 300-mile exchange policy and a Best Value Guarantee. Motor Trend Certified vehicles are thoroughly inspected, upgraded and guaranteed with a comprehensive warranty powered by EasyCare. Motor Trend Certified allows franchise dealers to provide a highly valued certification program for their Other Makes and Models (OMM) pre-owned vehicles.
"Our whole organization is proud to be affiliated with Motor Trend Certified. Their strong name and reputation creates a perfect fit for Blue Springs Ford," says Bob Balderston, CEO. "This is a terrific affiliation for our customers, employees and the city of Blue Springs & Kansas City to be recognized by a national brand such as Motor Trend Certified."
Motor Trend Certified participation is made available only to a select group of dealers across the country who have been thoroughly vetted and whose sales and service teams have been trained by EasyCare to deliver a noticeably better buying and ownership experience in accordance with the requirements of the program. These dealers agree to ongoing training and monitoring of the consumers' experience to ensure the highest customer satisfaction ratings of any certified program available.
Ira Gabriel, VP, Executive Director Motor Trend Certified for EasyCare, says "The Blue Springs Ford was a natural choice because of the dealership's commitment to the customer and long-standing reputation. We are absolutely confident Blue Springs Ford will truly deliver on a "Better Way to Buy a Better Car."
For more information about the Motor Trend Certified Program, please visit http://www.motortrendcertified.com.
For more information on Blue Springs Ford please visit http://www.bluespringsford.com
Motor Trend® (http://www.motortrend.com) is a publication of Source Interlink Media, LLC, and subsidiary of media and marketing services company Source Interlink Companies, Inc. EasyCare® is an Automobile Protection Corporation - APCO brand. For more information, please visit http://www.easycare.com.
Media Contact for Blue Springs Ford: Brad Higbee 913-402-8202
Media Contact for Motor Trend Certified/EasyCare: Brad Hutcheson 404-561-3506