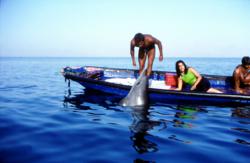 'One of the most comprehensive and interesting series on Dolphins I've seen'
(Ric O'Barry)
London, UK (PRWEB) April 11, 2012
Blue Velvet In Sinai: An indepth 4 part documentary film series on human and dolphin interaction.
With 2010 Oscar Winner Ric O'Barry (from Best Documentary 'The Cove'), and world experts on dolphins.
Televised around the world and now available for streaming, download and DVD at http://www.bluevelvetinsinai.com
The story is a microcosm within the 'larger picture' of dolphin healing, dolphin intelligence, military dolphins, dolphin captivity, swimming with wild dolphins and the effects of global warming and tourism on the oceans of the world.
The series was directed and produced by Gulrukh Khan and Shaun O'Connor, Executive Produced by Anton Kammerl and a team of eco-passionate German professionals. It was filmed in the US, UK, Israel, Egypt, and other parts of Europe. With stunning underwater photography by Stefanie Voigt, Erez Gonen and Udi Nuri.
The aim of this highly acclaimed and insightful series, is to demonstrate incredible interspecies interaction; and how there is still a need for humans to develop respect for all creatures, many of whom demonstrate a high level of self awareness and intelligence. Though not just with dolphins, but with our natural environment as a whole.
Blue Velvet In Sinai shows the remarkable relationship between a wild solitary female dolphin in the Red Sea named Olin, who in 1996 initiated a close relationship with a Bedouin fisherman called Abdullah, from The Mezzeina Tribe in the Sinai desert, Egypt.
This tribe is deaf due to inter-breeding, and communicate via sign language. In late December 1996 Olin, after mating with a dolphin from a passing school, gave birth to a male calf named Jimmy (by the Bedouin). Jimmy's arrival heralded a massive tourism wave that changed the area and the lives of the Bedouin.
The programmes also highlight many aspects of Bedouin life and culture against the vast landscapes of the Sinai Desert. We will catch fish with Abdullah and members of his tribe, and compare differing life styles between the traditional and modern Bedouin..
An extract from a story by the ancient Roman writer Aleian, about a tragic love affair between a young boy and a female dolphin, will show that human and dolphin interaction is not something new. Dolphins were abundant in classical times, though now their species are declining.
Before discovering Olin, Abdallah had difficulty with speech. Now Abdallah is able to talk freely, and his hearing is said to have improved. A remarkable achievement, almost miraculous, though it can be partly explained scientifically.
Footage of pregnant woman swimming with dolphins, and interviews with women who have undergone water births, are examples of how close we are in nature to these playful creatures. Including the first birth with dolphins in Israel, which hit major headlines.
Nature is all too often perceived as being an alien force that is hostile to man – something to fear, something to mistrust. Here, man is welcomed into an environment which embraces with love, and a life force that touches all.
Ric O'Barry is the lead thread thoughout the series and discusses how his life changed after training the Flipper dolphins, for the TV series. He has been a strong anti-captivity trainer and an internationally recognised human 'voice' for dolphins for many years.
The series includes a host of well established scientists and dolphin experts such as Professor Horace Dobbs, Rebecca Fitzgerald, Dr Peter Evans, Dr Gowrie Mohta and Dr Betsy Smith who first discovered the relationship between dolphins and the healing of autism in children.
Non Govermental organisations such as WSPA, EIA, Greenpeace and WDCS are represented and supported for their admirable work in this field, helping us to understand our world better.
Advertising and sponsorship is welcome on the film website. Please contact on:
bluevelvetinsinai(at)gmail(dot)com
A high audience will give visibility to your product or service.
Gulrukh's latest venture with Executive Producer Alex Zadah, is a documentary on the Spirit of the Martial Arts with world class artists, world champions, Masters and international Martial Arts celebrities. Including Sensei Zara Phythian, Legendary Cynthia Rothrock, Gold Olympics medallist and award winning Holllywood Stuntwoman Dana Hee, Dr John De Martini and Dr. David Hamilton
See http://www.spirit2power.com. Due for release in May 2012.
She has also produced and co - scripted a short film on Relief Advertising called 'Mantra for the New Millennium', along with the (late) award winning director Michael Portelly. (Best remembered for his award winning film 'Oceans Daughter', and highly acclaimed Cheltenham and Gloucester advert of a boy diving for a pearl).
Gulrukh is also a fully qualified Wholistic Practioner, dealing with Mind, Body and Spirit. She has extensively studied Energetic Balancing along with other Wholistic modalities including: Clinical Aromatherapy with Acupressure Massage and Advanced Theta Healing.
See http://www.allowmiracles.com
She comes from a long line of Complimentary Medical Practitioners, including her Paternal Grandfather Sir Maqsood Jung, who was the Unani Practitioner to The Nizam of Hyderabad and the 'then' – President of India. Unani, or Yunani, is a traditional Graeco-Asian medical treatment practiced widely in South-East Asia, and based on the teachings of Greek Physician Hippocrates, and Roman physician Galen.
Her late Uncle Idries Shah was renowned for his books on Sufism, and was best remembered for introducing Sufism to Western Academia. His daughter Saira Shah made the acclaimed TV documentary 'Beyond The Veil'.
Her Father's second cousin is the International and award winning Bollywood legend Nasiruddin Shah.
Sponsors and Advertisers are welcome. There is a big search engine optimisation and pay per click campaign to increase visibility.