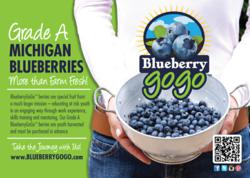 Chicago, IL (PRWEB) June 26, 2013
BlueberryGoGo™ is about doing something good for the body and soul. In addition to giving Chicagoans access to freshly harvested Grade A Michigan blueberries, BlueberryGoGo™ provides At-Risk Youth unique educational opportunities through work experience, skills training and mentoring programs. BlueberryGoGo's youth harvest program creates more than just jobs. It saves lives and builds positive communities. Every purchase supports the mission of building life skills that keep Chicago's At-Risk Youth on an exciting path towards a successful life journey.
BlueberryGoGo™ brand blueberries may be the only blueberries on earth packed with inspiration, hope, and a positive future for Chicago's Youth. With every purchase of BlueberryGoGo™ berries we all move forward from compassion to solid conviction and onto real action — providing At-Risk Youth:

Employment Opportunities
Education / Entrepreneurial Learning
Healthy Eating Solutions (addressing food desert issues)
Careers paths in Urban Agriculture, Farming & Nutrition
Take the Journey With Us!
1) Order in bulk today at http://www.BlueberryGoGo.com
2) Become a sponsor! Contact us at willingtohelp@blueberrygogo.com
3) Share our online video http://youtu.be/kXGTRKii5A8
4) Follow us on social media: (infographics available for download here)

Twitter @blueberrygogo1
Instagram @blueberrygogo
Pinterest @blueberrygogo
Thank you for your interest in BlueberryGoGo™!
BlueberryGoGo™ brand berries are distributed by Endure4, LLC in cooperation with GoSO (Go Serve Others) a 501c3 non-profit organization. © 2013 Blueberry GoGo. For more information visit http://www.LetsGoSO.org