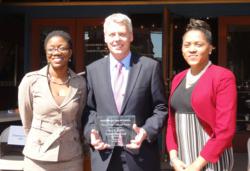 Blue Bird is a local hero that is supplying cleaner-burning buses throughout the nation.
Fort Valley, Ga (PRWEB) April 27, 2012
Blue Bird Corporation received the Extra Mile Award this week from the Middle Georgia Clean Air Coalition for their commitment and success in bringing alternative-fueled school bus transportation to the market. The award recognizes organizations that improve Georgia's air quality while advancing economic, environmental and energy security.
"Blue Bird was chosen because they have gone the 'extra mile' in offering and providing a safe, attractive and viable alternative fuel choice for their buses amidst rising diesel fuel prices," said Charise Stephens, executive director of the Middle Georgia Clean Air Coalition, speaking about Blue Bird's Propane-Powered Vision and Propane-Powered Micro Bird. "Blue Bird is a local hero that is supplying cleaner-burning buses throughout the nation. They've put Middle Georgia on the map as a hub for clean technology."
Blue Bird has manufactured buses using alternative fuels since 1991. Their current product line includes two different size school buses fueled by propane autogas and one by compressed natural gas. Now in its 85th year, Blue Bird employs 1,500 employees from about 45 counties across Georgia. More than 500,000 school buses have been manufactured in the Peach State and delivered to communities throughout the United States and across the world.
"At Blue Bird, we are committed to providing innovative, reliable and efficient green solutions that our customers want and value," said Phil Horlock, president and CEO of Blue Bird Corporation. "I am honored to accept this award on behalf of all our employees."
Georgia's Hall County Schools recently purchased 20 buses, becoming the first school district in the state to fuel with domestically produced, economical propane autogas. Vehicles fueled by propane autogas emit fewer greenhouse gases and hydrocarbons than diesel-powered vehicles.
"We hope and expect to have many more counties in Middle Georgia using clean, domestic propane autogas," Stephens said.
"Blue Bird is proud to be an important part of the Middle Georgia community," said Horlock. "We will continue our commitment as a school bus industry innovator, leading the way in finding smart and affordable solutions that benefit the environment and our communities."
About Blue Bird:
Blue Bird offers a complete line of Type A, C and D school buses in a variety of options and configurations. For 85 years, Blue Bird Corporation has continued to set industry standards with its innovative design and manufacturing capabilities. Additionally, Blue Bird provides comprehensive financial solutions through Blue Bird Capital Services. Today, Blue Bird has 1,500 employees, Georgia-based manufacturing facilities and an extensive network of dealers and service-parts facilities throughout North America. Its global presence can be seen in more than 60 countries through sales into Africa, Asia, the Caribbean, Latin America, Europe and the Middle East. For more information, visit the Blue Bird Corporation web site at http://www.blue-bird.com.