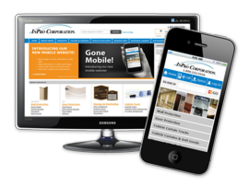 With each successive mobile site that we build, the staff becomes more savvy about both mobile website design and mobile website development.
Chicago, IL (PRWEB) May 18, 2012
BlueBolt Solutions announces the completion of yet another mobile website development project. BlueBolt's latest mobile client, InPro Corporation, saw their mobile site go live on May 16, 2012.
The InPro Corporation website detects the type of device (mobile, tablet or desktop) being used to access the site and then automatically serves the appropriate site (mobile or full screen) to the device. This technique, known as responsive design, makes it simple for returning users to remember just one URL: inprocorp.com.
The mobile site requires only one password to access order history and other sensitive information. This password is the same password needed to access personal accounts on the main website, enhancing usability and simplicity for the user.
The increase in mobile visitors to inprocorp.com has grown by 5% in the past year. InPro is expecting this growth to continue exponentially after the launch of their new mobile website. By the year 2014, InPro predicts that more than 50% of visitors will access their website via mobile devices, thus the development of a mobile website was a critical initiative.
This is not the first time InPro Corporation and BlueBolt Solutions have worked together. InPro Corporation previously chose BlueBolt to redesign and merge two of their existing websites into one. The merger of the two sites produced exceptional results as BlueBolt was able to maintain and increase InPro's Search Engine Optimization (SEO) all the while enhancing client experience and ease of management with the installation of the PackFlash Constellation DotNetNuke (DNN) CMS. BlueBolt Solutions was the obvious choice for InPro's mobile project because of their previous relationship as well as BlueBolt's custom mobile development work with other clients.
"We're looking forward to providing the new service to our mobile customers," said John D. Zabkowicz, eCommerce Manager, InPro Corporation.
When asked about this mobile website development project, BlueBolt's Director of Technology, Jason Lichon said, "With each successive mobile site that we build, the staff becomes more savvy about both mobile website design and mobile website development. End users are coming to expect more of an 'app like' experience on their phones and tablets, so the rules of interface design for these devices are completely different than the rules for desktop browser design."
About InPro Corporation
InPro Corporation is the leader in door and wall protection, decorative surfaces, expansion joint systems, cubicle track & privacy curtains and signage & wayfinding. InPro products are used in healthcare, senior living, hospitality, education and more.
About BlueBolt Solutions
BlueBolt is an interactive web development agency in Chicago focused on client empowerment. Founded in 2005, BlueBolt has had the privilege of serving hundreds of clients in a host of different ways. They are a functionality and technology centric agency, committed to providing clients three things: a solution that elegantly meets business needs, a solution that the client can intuitively manage, and fair and accurate project scoping.