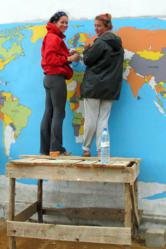 After the trip we meet with every student individually to assess their goals and help them utilize their summer experience.
San Francisco, CA (PRWEB) October 17, 2012
Blue Bridge Project (BBP), which offers international service and travel programs for high school students, today announced its inaugural year.
BBP is the first program to partner with international nonprofits and offer "prepare for college" sessions after the trip to help students apply their summer experiences to individual goals and future endeavors. In BBP's inaugural year, students can select from four service learning adventures: Organic Farming in Nicaragua, Surf & Service in Nicaragua, Amazonian Preservation in Peru and Public Health Care in Madagascar.
Elizabeth Leonard, Founder and President of BBP, said, "I am thrilled to announce the launch of BBP. By partnering with nonprofits in the regions we visit, we can give students who want to volunteer abroad a more realistic view of international development and provide them exposure to the people who work on complicated development issues every day. Our trips are designed not only to be fun and educational, but also to have a high impact within the community."
By working with nonprofits in the countries they visit, BBP's students can do community service with much greater context for what the community actually needs. BBP's mission is to keep students engaged in the issues they experienced on their summer programs by providing structured and personalized reflection sessions after the trip. Through individual guidance after the trip, BBP staff can help tomorrow's leaders stay connected to their mission of service and apply the skills they learned abroad once they get back home – whether they are preparing for college, exploring opportunities for their next summer, or applying for their first job.
Ms. Leonard continued, "Having participated in a trip myself as a student nearly 15 years ago, I have always appreciated the tremendous value of the student travel experience. When I became a trip leader in 2004, I realized that without connections to local nonprofits, many students didn't fully appreciate the needs of the communities they were serving. I also noticed that students would return home, quickly adjust to their usual environment and forget the lessons learned from the experience. And that's why I decided to create the Blue Bridge Project."
"After the trip we meet with every student individually to assess their goals and help them utilize their summer experience. Having worked in the admissions office at both Dartmouth College and Penn Law I recognize that it is critical for students to thoughtfully reflect on their trip if they plan to use it in the college admissions process."
About Blue Bridge Project
Blue Bridge Project (BBP) is the only high school travel program that offers community service opportunities and post-trip support to help students reflect on their experiences and plan for their futures. We expose students to international development work and support them on their journey to become the leaders of tomorrow. BBP's summer programs are for high-school students entering 9th through 12th grades. Visit http://www.bluebridgeproject.com for more information.