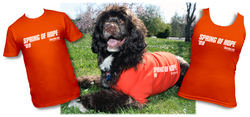 It's during the tough times that we need to deliberately embrace the hope and optimism that remind us that better days are just around the corner
Bowling Green, KY (PRWEB) April 2, 2009
As the Obama family is soon to experience, there's nothing quite like the euphoric greeting of a dog as you walk in the door at the end of a tough day. Believing that's exactly what the entire country needs this spring - a healthy dose of a dog's unabashed enthusiasm and unquenchable hope - custom t-shirt company BlueCotton (http://www.BlueCotton.com) today declared the beginning of the "2009 Spring of Hope."
The company kicked it off by sending special Spring of Hope tees to the entire Obama family - including one specially made for the soon-to-arrive First Pet, and a separate sleeveless tee for the First Lady, of course. Custom canine tees adorned with the "Spring of Hope" logo are available for order on the BlueCotton website.
BlueCotton is giving away free custom t-shirts by distributing special contest codes via Twitter (http://twitter.com/BlueCottonTweet?page=1) throughout the month of April. The first person to respond each day will receive a free t-shirt - customized by the winner via BlueCotton's online DesignStudio, at http://www.BlueCotton.com.
The company today also announced it has lowered prices on single orders, reducing the price to $29.99 for a custom created t-shirt, with no set-up fees. For every single-shirt order placed throughout the month of April, BlueCotton will donate $1 to the American Society for the Prevention of Cruelty to Animals (ASPCA). April is Prevention of Cruelty to Animals Month, and the ASPCA urges supporters across the country to "Go Orange for Animals" (http://www.aspca.org/about-us/aspca-april/). Naturally, BlueCotton made its Spring of Hope tees orange.
"It's during the tough times that we need to deliberately embrace the hope and optimism that remind us that better days are just around the corner," said Mike Coffey, BlueCotton founder and CEO. "A dog's enthusiasm is so pure, and it's a great reminder that we can choose how we're going to react to challenging circumstances. This is just a fun way to do our small part - to take what we do, sell custom t-shirts, and use that to make a positive statement. And, we hope, to make people smile."
To help the First Family welcome their new Portuguese Water Dog (PWD) into the White House, BlueCotton enlisted the help of fellow PWD Leonardo of Sherman Oaks, Calif. The energetic 17-month-old has a chocolate brown and white wavy coat and flaunts a lion cut. Leonardo qualified for his Junior Water Dog title at 10 months of age. He received his own Spring of Hope tee; see the accompanying photo.
Anyone can create their own custom-designed t-shirt using BlueCotton's DesignStudio - a state-of-the-art online t-shirt customization tool, described by Gizmodo as "a sophisticated Photoshop-like web app to let you design your own shirt… with a tremendous amount of control over the results." The BlueCotton DesignStudio is available at http://www.BlueCotton.com.
T-shirts are keepers: according to a survey conducted by BlueCotton and Synovate in February, four out of five people still hold on to at least one sentimental old shirt - and, more likely, two or three. BlueCotton is inviting anyone to share their own lists of favorite old t-shirts they still own. Go here: http://www.facebook.com/pages/BlueCottoncom/45760448438 and add a list to the discussion titled My Favorite Shirts, or add a photo under "fan photos."
About BlueCotton
BlueCotton.com is the place to go for high-quality, easy-to-design custom t-shirts. The company's professionalism, expert design guidance and obsession with customer satisfaction have won the company legions of fans. BlueCotton offers printed and embroidered custom t-shirts, hats, and outerwear for individuals and groups of all kinds: schools, churches, sports teams, non-profits, fraternities, sororities, or those who simply want to make a proud, personal statement. Gizmodo calls BlueCotton's online interactive DesignStudio "a sophisticated Photoshop-like web app to let you design your own shirt… with a tremendous amount of control over the results" and says "the interface rocks." BlueCotton is ranked in the Inc. 5000 list of fastest-growing private companies in the country. Based in Bowling Green, Ky., BlueCotton has been selling custom t-shirts and embroidered apparel since 1991.
Media Contact
Ken Greenberg
Edge Communications, Inc.
818/990-5001
ken@edgecommunicationsinc.com
# # #