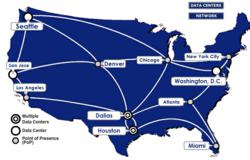 For optimal protection, blue dog NETWORK customers can opt to span data back-up across multiple servers and redundant data centers. Data centers are on separate power grids, and each has two separate UPS back up sources PLUS fully powered generators
North Carolina, USA (PRWEB) September 13, 2011
blue dog NETWORK, one of the fastest growing IT cloud solutions providers in the world, reported the fast deployment initiatives during the recent natural disasters across the United States rescued new customers with a life line for immediate back-up, data security and communication connectivity. All current and new customers experienced 100% uptime and no loss of data communications connectivity.
"It has been several dramatic weeks for natural disasters, flooding, fires, power outages, and web meltdowns," said Dana Vizneau, CEO of blue dog NETWORK. "We are pleased to report our fast deployment initiative supported new customers' data in record time. Our information technology solutions are powerful."
Hidden Dangers to Businesses
Flooding can affect power supply lines, especially in large areas where cables are underground and unseen. Loss of power is one of the top issues companies address every day.
But the real hidden danger of power outage is data loss and business downtime. Unfortunately, businesses that do not have a back-up, recovery or business continuance plan can face catastrophic damage to their priceless information and connectivity for all employees, partners and customers. Downtime can cost relationships and revenue.
Look below the surface
Natural disasters definitely raise awareness of the necessity of information technology preparedness necessary before any systems failure occurs. blue dog NETWORK provides the highest level of enterprise-wide uninterrupted power, back–up, recovery and business continuance support. Add the value of agnostic operating systems support for every business size and connectivity for all mobile devices, including desktops, email, web communication and collaboration. Cost-effectively protect precious information and communications connectivity that will secure every business stays up and running.
Keep information technology secure with redundant back-up data centers. For optimal protection, blue dog NETWORK customers can opt to span data across multiple servers and data centers

14 Class A secure data centers geographically located in key areas of North America for redundant back-up
Each data center on separate power grids
Each with two separate UPS power back-up sources
Each with a fully-fueled alternative power generator that will last indefinitely to keep your data accessible 24/7
Generators are automatically deployed within minutes if one of the other multiple power service options fail
Continuous power supply under extreme conditions
blue dog NETWORK has an unparalleled solutions portfolio for every business size, budget and unique situation. Be smart, simple and secure with blue dog NETWORK remote back-up, recovery and business continuance support today.
Since 2006, blue dog NETWORK (bdN) has provided clients around the globe with private cloud computing services such as dedicated and virtual server hosting, email, collaboration, backup, disaster recovery, business continuance, data storage and remote access to non-web enabled software. By forming strategic partnerships and utilizing 14 Class A data centers across the country, the award-winning North Carolina firm enables businesses to tap into Fortune 500 technology without the upfront cost of installing, maintaining and updating on-site software and hardware. For more information, please visit backup.bluedognetwork.com or call 910-256-9697.
###