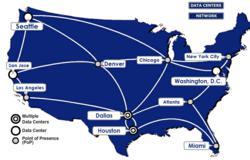 "Natural disasters definitely raise awareness of the importance of IT business preparedness"
North Carolina, USA (PRWEB) September 09, 2011
blue dog NETWORK, one of the fastest- growing IT cloud solutions providers in the world, extended the special fast deployment back- up and disaster recovery initiatives launched recently in response to continued demand and impending natural disasters.
Hurricanes, flooding, wide-spread fires, tornados, even earthquakes: natural disasters are eminent. Preparation is key to ensure information technology remains safe, communication connectivity is maintained, intellectual property is protected, and business continuance is secured.
Impending disasters are a wake-up call to businesses who have hit the snooze alarm once too often about their information technology back-up and network recovery plans.
"Natural disasters definitely raise awareness of the importance of IT business preparedness," stated Dana Vizneau, CEO for blue dog NETWORK. "Fail to plan and plan to fail is unfortunately true. That's one reason we implemented our fast deployment action plan, to help business managers address immediate IT issues with confidence. The time to secure is now."
Fast Deployment in Minutes. Immediate peace of mind plus long term ROI benefits
blue dog network responded with focused systems engineering teams standing by 24/7. Every business is supported within minutes of request. Immediate IT back-up solutions and recovery is served and protected with one of the most powerful cloud and redundant secure data center infrastructures in the world.
See how easy IT deployment can be.
Don't be Powerless due to Power Outages
Loss of power is one of the top issues companies address during a natural disaster. Ensuring communications stay connected and data remains secure is mission-critical. Any downtime is too much. blue dog NETWORK provides the highest level of uninterrupted power, back-up recovery and [cloud continuance business support:

14 Class A secure data centers geographically located in key areas of North America for redundant back-up
Each data center on separate power grids
Each with two separate UPS power back-up sources
Each with a fully-fueled alternative power generator that will last indefinitely to keep your data accessible 24/7
Generators are automatically deployed within minutes if one of the other multiple power service options fail
Continuous power supply under extreme conditions
The threat of power outages will not affect back-up or recovery capabilities. Mobile devices, desktops, email: communication and collaboration remain secure.
30%-50% improved ROI is additional benefit
Business information is priceless. Data can be protected from natural disasters, power outages, cyber disasters or simple user error. Savvy CFO's minimize financial risk and reap the benefits of IT network disaster recovery and back-up preparations now.
blue dog NETWORK information technology solutions options make IT easy and seamless. Special hosted exchange communication services add more value.
No long term contracts, pay as you go, add users and layers and multiple devices on any platform whenever needed. No capital expenses. Move IT to the operating expenses side of the spreadsheet and reap even more bottom line security.
Take advantage of cost-effective options, immediate deployment and a full suite of IT tools available now. Cost-effective, agile information technology solutions are just a click or call away. Protect your business today. Reap the security, connectivity,collaboration and financial benefits immediately with blue dog NETWORK by your side.
Since 2006, blue dog NETWORK has provided clients around the globe with private cloud computing services such as dedicated and virtual server hosting, email, collaboration, backup, disaster recovery, business continuance, data storage and remote access to non-web enabled software. For more information, please visit backup.bluedognetwork.com or call the North American headquarters at 910-256-9697.
###