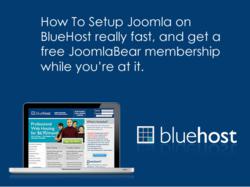 San Francisco, CA (PRWEB) April 28, 2012
The leading web hosting review site Top-Cheap-Web-Hosting.com releases their in-depth review for BlueHost Joomla hosting from the Joomla hosting compatibility, performance, reliability, technical support and price.
BlueHost was founded in 1996 by Matt Heaton who had been an expert on the Linux kernel development. By now, BlueHost is the largest hosting company that only provides a single unlimited professional shared hosting package. BlueHost is also the only shared hosting provider who developed a dedicated data center by themselves that has invested 12 million USD since 2010.
BlueHost has over 500 employees and about 5,000 servers serving for over 2 million domains and sites, and still adds 20,000 new customers for each month. With the hold times that average less than 30 seconds and 100% on-site staff in their Utah offices, BlueHost Joomla hosting clients can be assured that the person helping with their site knows how to help.
BlueHost has been the recommended host for hosting Joomla by Joomla.org since 2009. Their professional hosting has been optimized particularly for Joomla. BlueHost has developed an application installer named SimpleScripts that allows users to install and upgrade the Joomla sites by 1 click. SimpleScripts has integrated with many Joomla 3rd-party sites to offer a thousand of Joomla themes and widgets for free. BlueHost Joomla hosting also commits 99.9% uptime and the much faster Joomla loading speed than its major competitors.
BlueHost Joomla hosting is pricing for $6.95/mo regularly, but now they're making a compelling 44% discount for $3.95/mo only. To learn more about BlueHost Joomla hosting review and discount, visit http://www.top-cheap-web-hosting.com/web-hosting-guide/bluehost-joomla-hosting-review
About Top-Cheap-Web-Hosting.com
Top-Cheap-Web-Hosting.com (TCWH) is a leading web hosting review & rating site, designed to help people find the best web hosting deal based on the true experience and the real customer reviews. TCWH has truly reviewed over 100 web hosts since 2011.