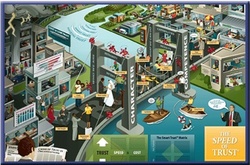 The partnership promises new opportunities to excite, engage and transform employee behavior.
Tampa, FL (PRWEB) May 21, 2010
For more than 20 years, Donna Burnette, CEO of Tango Learning, LLC, has been creating innovative simulations and discovery learning solutions for the country's most influential organizations including, Price Waterhouse and FranklinCovey. (Most recently she consulted with Stephen M.R. Covey to build a simulation on the subject in support of his bestseller, The Speed of Trust.)
Now this industry leader has joined another. Blueline Simulations, LLC is proud to announce that Donna Burnette is now a partner of the Tampa, Florida-based firm. The partnership promises new opportunities to excite, engage and transform employee behavior.
"Donna Burnette is one of the most talented and creative designers of discovery learning experiences in the industry," says David Milliken, Managing Partner, Blueline Simulations. "Blueline will be better for the skills, passion and experience that she brings."
Blueline Business Simulations leverages a broad range of action learning techniques to create all manner of custom training solutions. Their offerings include learning visuals, business games, simulations, mobile learning, social media, virtual worlds, and elearning.
Today, more and more organizations are waking up to the power of learning by doing:

One Fortune 500 company experienced a 400 percent increase in the rate of employee participation in an initiative driven by simulation, versus their previous, static, web-based initiatives.
Another enjoyed a 50 percent increase in performance ratings. Leaders in that firm credit a 25 percent market share increase to their adoption of an experiential-learning approach.
Blueline Business Simulations has specialized expertise in helping organizations to:
About Blueline Simulations
The mission of Blueline Simulations is to excite, engage and transform employees utilizing the world's most innovative and effective training solutions... one client at a time. The Florida-based firm has quickly established a global reputation for delivering "everything simulation." Whether your need is for a learning solution that is face to face or remote, senior executive or entry level, or anything in between, Blueline Simulations has a portfolio of targeted solutions that can deliver.
Blueline Simulations builds custom learning visuals, classroom simulations and games, elearning, esimulations, mobile learning, virtual worlds and social media solutions. Our network enables us to deliver the leading corporate training solutions in branding & positioning, business finance & strategy, leadership, sales strategy, market strategy, project management, diversity, trust and much more. Blueline helps organizations inspire new beliefs, expand knowledge and develop skills.
###