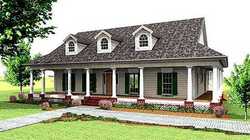 We know that the process can be confusing, and that's why we developed the
Baton Rouge, LA (PRWEB) August 27, 2008
Due to popular demand for simple and easy-to-follow steps on how to find affordable and easy-to-build house floor plans, the "New to House Plans?" Special Report was released today by Home Design Central.com.
"We are very fortunate to be able to talk with many different individuals and families, on a weekly basis, about what they're looking for in their new house plans. One concern that seems to be a constant, is that they are confused about how the house plans process works, and aren't really sure how to proceed", noted Jill Phillips of HomeDesignCentral.com.
"We know that the process can be confusing, and that's why we developed the "New to House Plans?" special report. Its ONLY purpose is to educate new house plan shoppers about the entire process and what affordable options are available to them."
In this special report, consumers can learn everything about how the "house plans shopping" process works, including:

What are the different house plan options I have, and what are the advantages / disadvantages of each?
What are the differences between "Stock" Home Plans vs "Custom" House Plans?
What do I need to know about my house plans when going to local building officials to obtain permits?
What are the most-popular house plan features being included in new homes?
What are the different types of home foundations, what are the characteristics of each, and which one is right for you?
What if I need changes to the house plans? How does the floorplan modification process work and how much does it cost?
What are the different types of plan packages that are available and which one is right for your specific needs?
And finally, "What to do Next"? An easy-to-follow roadmap to getting the exact house plan you want, at a fraction of the price of a custom set of house plans…
"Hopefully, this comprehensive report will help people who are beginning the house plan search process to better understand what options they have, from the outset. Additionally, if anyone should have additional questions about stock house plans, thats not covered in the report, our team at HomeDesignCentral.com is always happy to answer those, noted Jill Phillips.
You can access the Limited-Time, Free Special Report at:
http://www.HomeDesignCentral.com/freereport
For additional information on the house plans available on Home Design Central.com website, contact Jill Phillips or visit http://www.HomeDesignCentral.com.
About HomeDesignCentral.com:
Home Design Central.com is the premier stock house plans broker on the Internet, offering a searchable database of thousands of the most-popular house floor plans, home plans, dream houses, and blueprints from the nation's leading building designers and architects.
To learn more, visit http://www.HomeDesignCentral.com today, and join our "House Plan News" mailing list to receive a special subscriber-only offers and money-saving tips on building your new home…
Press Contact:
Jill Phillips
Home Design Central.com
phone: 1-800-734-0829
email: info @ HomeDesignCentral.com
web: http://www.HomeDesignCentral.com
###