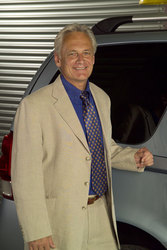 ADA 20/20: Looking Back, Looking Forward on Mobility
Washington DC (Vocus) July 2, 2010
Mark Lore of Ride-Away, a wheelchair accessible van provider, was one of the key speakers at the recent Blue Ribbon Panel entitled "ADA 20/20: Looking Back, Looking Forward on Mobility" in Washington D.C. The panel was hosted by Braun Ability.
The panel brought together a select group of thought leaders in the mobility industry. Some of these people included CEO's of mobility-related companies, architects of the ADA and physical and occupational therapists. The day was designed to capture the current thinking around what has been done and what needs to be done in order to increase mobility and make the nation more accessible to people with physical disabilities.
"Events like this bring together people from many different groups and organizations, Lore said. "In this case, it was furthering the disabilities rights movement. By bringing people together like this we were able to share visions, goals and needs. We realize that together we can make a greater impact than if we remain separated."
According to Lore the panel, which took place on June 9, went well and presenters were well-prepared. Some topics included current technology and support systems, identifying gaps of knowledge, behavior and attitudes toward disabilities and the future needs of Americans with disabilities.
"Mark stated that our industry is evolving and is being driven by new and better technology and products for our clients," Sul Allyn, General Manager of Ride-Away's Beltsville, MD location said. "Understanding the evolution of the ADA and increasing collaboration between primary and secondary stakeholders is critical and will increase awareness."
The event commemorated the 20th anniversary of the American with Disabilities Act (ADA) of 1990, which President George Bush signed into law. This act symbolizes the world's first comprehensive declaration of equality for people with disabilities.
ABOUT RIDE-AWAY:
Ride-Away is America's largest provider of modified vehicles and adaptive equipment for people with disabilities. Ride-Away products are used by individuals with minor to profound disabilities requiring additional assistance while traveling and range from hand controls and lifts to raised door and lowered floor vehicle modifications. Founded in 1986, Ride-Away's 11 East Coast locations are committed to offering a broad selection of specialized vehicles and services to meet the needs of every customer. All of Ride-Away's locations are also QAP (Quality Assurance Program) certified through the National Mobility Equipment Dealers Association (NMEDA), resulting in Ride Away being held to the highest standards in the industry. For more information, call (888)-RIDE-AWAY (888-743-3292) or visit our website at http://www.Ride-Away.com.
###