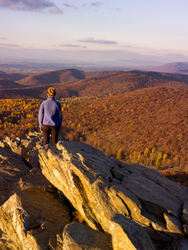 Celebrate Blue Ridge Parkway's 75th Anniversary, with year-round, affordable package deals on America's iconic roadway
RICHMOND, VA (PRWEB) April 21, 2010
As the Blue Ridge Parkway, America's Favorite Drive, celebrates 75 years in 2010, Virginia invites families to join in the fun with travel deals showcasing natural beauty and traditional favorites. The Blue Ridge Parkway is an iconic travel destination, stretching 469 miles from Shenandoah National Park in Virginia to the Great Smoky Mountains. The parkway is a classic road trip, where travelers can connect with loved ones and enjoy outdoor adventure, great small towns, history, music and more.
The following is a sampling of Virginia's diverse and affordable travel packages celebrating the parkway's 75th anniversary. A complete list of package deals, as well as a chance to win a seven-day, six-night vacation for four on the Blue Ridge Parkway can be found at http://www.Virginia.org/brp:
Natural Bridge to the Blue Ridge Package

Natural Bridge Hotel & Conference Center – Natural Bridge, Va. (Valid through December 31, 2010)
The Natural Bridge, known as nature's cathedral, is a natural archway soaring over 20 stories high across Cedar Creek in the Shenandoah Valley. The Natural Bridge to the Blue Ridge Package includes one-night accommodations at Natural Bridge Hotel & Conference Center, breakfast and passes to Natural Bridge and Trail, Monacan Indian Living History Village and Natural Bridge Caverns and museums. Prices start at just $129 per night for two people and $169 per night for groups of four.
Relaxing Getaway with Aerial Tour of the Blue Ridge Parkway

Best Western Waynesboro Inn & Suites – Waynesboro, Va.(Valid through December 31, 2010)
Experience the Blue Ridge Parkway like never before with this package featuring a 30-minute aerial tour by plane of the Blue Ridge Parkway provided by one of the experienced pilots from Eagle's Nest Airport in Waynesboro (maximum 3 guests). This package also includes one-night accommodations in a spacious suite with mountain views and breakfast buffet. Prices start at $139.99 per night, based on double occupancy.
Mariners Landing Blue Ridge Parkway 75th Anniversary Package

Mariners Landing - Smith Mountain Lake, Va. (Valid through December 31, 2010)
Mariners Landing, an exciting family adventure destination on beautiful Smith Mountain Lake is offering the seven for five special. Book five nights at the standard rate and receive two additional nights free. This package includes spacious, fully furnished condominiums, convenient amenities, lake access and daily express breakfast. Regular rates start at $156 per night and depend on room type and date of visit.
Relax, Unwind in the Charm and Hospitality of Downtown Waynesboro

Belle Hearth Bed and Breakfast - Waynesboro, Va. (Valid through December 31, 2010)
Enjoy "hospitality in the valley" when you stay at Belle Hearth Bed and Breakfast in downtown Waynesboro, located at the beginning of the Blue Ridge Parkway. Package includes: one-night accommodations, welcome basket, breakfast and dinner, private Blue Ridge and Shenandoah wine tasting, outdoor yoga facing the Blue Ridge Mountains, picnic lunch to enjoy by the South River and two 60-minute massages using Blue Ridge herbal oils. Package starts at $385 per night.
Family Reunion Lodge Package Skyline Drive

Shadow Mountain Escape - Luray, Va. (Valid through December 31, 2010)
Enjoy the proximity to Shenandoah National Park and the Blue Ridge Parkway with the entire family. These timber frame cabins rest on 15 pristine acres bordering the park land. All cabins include intricate hand-crafted Oak timbers and extensive rockwork. A pond, stream and nature trail offer outdoor recreation. This package includes accommodations for up to eight guests, a bonfire under the stars and a welcome basket filled with homemade treats and award-winning jam. Package price starts at $1200 for two nights.
Love is at the heart of every Virginia vacation. Visit http://www.Virginia.org to start planning a visit. Or call 1-800-VISITVA to request a free, Virginia is for Lovers travel guide.
# # #