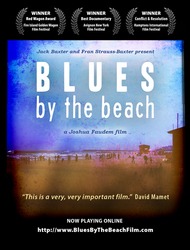 When I saw my husband in the hospital, I knew that no matter what, the film must go on - just like Mike's Place
New York, NY (PRWEB) March 9, 2009
Fate brought filmmakers together in Israel in April of 2003. After setting out to make a documentary film about a popular international blues bar by the beach in Tel Aviv called Mike's Place, the filmmakers' peaceful good time was abruptly interrupted when harsh reality struck the bar.
On April 30, 2003, two British Nationals executed a suicide bombing next door to the U.S. Embassy in Tel Aviv at Mike's Place, as an American producer and his crew were filming a cinema verite style documentary about the bar staff and their multiethnic patrons. The film crew was on the scene and captured the before, during and aftermath of the incident. This gripping true-life footage has since aired around the world.
The 2-disc set with 'EXTRAS' DVD (never-before-seen footage) is available online exclusively at CreateSpace.com and Amazon.com. 'Blues By The Beach' can be downloaded exclusively at iArtHouse and streamed via Vividas on-demand for private viewing. The film is also available for educational non-theatrical sales and screenings at libraries and schools.
The film's co-producer, Fran Strauss-Baxter, whose husband Jack Baxter was seriously injured in the attack: "When I saw my husband in the hospital, I knew that no matter what, the film must go on - just like Mike's Place," Strauss-Baxter says. "I know from firsthand experience that 'Blues' can change someone's perception of modern-day Israel. And I really believe anyone who wants peace in the Middle East should see this film and the 'EXTRAS' DVD."
Film festivals in the U.S., Canada and Europe have lauded 'Blues By The Beach.' Pulitzer Prize winning playwright and movie director David Mamet calls it: "a very, very important film. It ranks along with 'One Day In September' as an actual, undeniable presentation of the unmitigated horror of terrorism."
To view the film trailer, DVD EXTRAS preview, and access information about Library/Educational Non-Theatrical sales and screenings visit: BluesbytheBeachFilm.com.
About 'Blues By The Beach' (http://www.bluesbythebeachfilm.com):
'Blues By The Beach' directed by Joshua Faudem and produced by Jack Baxter and Fran Strauss-Baxter, is an independently produced documentary film offering unprecedented and up-close views of the effects of a terrorist attack. The film crew captured the moments before, during and immediately after the Mike's Place suicide bombing in Tel Aviv on April 30, 2003. The resulting film had a limited U.S. theatrical release and qualified for a 2005 Best Documentary nomination. 'Blues By The Beach' has won awards at numerous film festivals and screens at colleges, high schools and libraries.
###