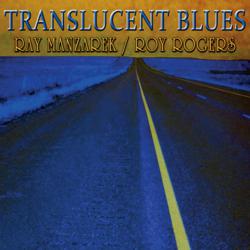 This is a head-first dive into American contemporary Blues.
San Francisco, CA (Vocus/PRWEB) May 17, 2011
Legendary keyboardist for The Doors and Rock and Roll Hall of Fame inductee Ray Manzarek and slide guitar master and producer of two Grammy award-winning recordings Roy Rogers have teamed up to record a hard driving blues/rock album, Translucent Blues. Although the album will be released on May 24th, 2011 by Blind Pig Records, the band has launched its promotional tour and eager fans can listen to samples of all 12 tracks now at the Manzarek-Rogers Band website: http://www.manzarek-rogersband.com.
"This is a head-first dive into American contemporary Blues," said Manzarek. "Roy and I take the unique art form of the blues and add a 21st century twist to the genre."
Manzarek has called Translucent Blues a "blues-rock collection of songs with powerful grooves, strong hooks and lyrics tinged with poetry and literary references." Most of the songs were written collaboratively, with contributions from legendary poets and lyricists, like beat poet Michael McClure; Jim Carrol, musician and author of The Basketball Diaries; jazz poet Michael C. Ford; and rock legend Warren Zevon.
Manzarek-Rogers Band members include Kevin Hayes, formerly with the Robert Cray band, on drums; Steve Evans, of the Elvin Bishop Band, on bass; and George Brooks, who has performed with John McLaughlin and Zakir Hussain, on tenor saxophone. These artists have recorded a contemporary album with soul, intensity and creative energy. The album is wall to wall multi-layered arrangements, solid driving grooves and stylistic depth.
"Translucent Blues is one part blues and one part rock, shaken hard with a twist of jazz," said Rogers.
The band has been wowing audiences in its run-up performances to the CD's May 24th release. Sacramento 365 observed, "Manzarek and Rogers have put their artistic minds together and created a captivating new concert experience." The shows include songs from Translucent Blues, Doors' hits like "Light My Fire" and "Riders on the Storm," and classic blues and jazz tunes.
Upcoming Manzarek-Rogers Band tour shows include the Sellersville Theater in Sellersville, PA on May 21st; the Chesapeake Blues Festival in Annapolis, MD on May 22nd; the Highline Ballroom in New York City on May 23rd; Showcase Live at Patriot Place just outside Boston on May 24th, the Ridgefield Playhouse in Ridgefield, CT on May 25th; and Tupelo Music Hall in Londonderry, NH. The tour continues through the summer in Fargo, ND; Minneapolis, MN; Calgary, AL; and Sonora, CA, with more dates TBA.
For more information about the album Translucent Blues or live tour dates for the Manzarek-Rogers Band, visit them on the web at http://www.manzarek-rogersband.com.
About Manzarek-Rogers Band
Ray Manzarek, the keyboardist and founding member of The Doors, and the multi-talented, Grammy-Award winning slide guitarist, songwriter and producer Roy Rogers have formed a new ensemble and recorded a blues/rock project that is a stirring and masterful collaboration called the Manzarek-Rogers Band. Their new album, Translucent Blues, will be available on May 24th in stores, or online through their website, Amazon or iTunes.
Manzarek is one of the most influential keyboard players in the history of rock, and an inductee in the Rock and Roll Hall of Fame. Over the years, Manzarek has recorded with composer Phillip Glass, played with Iggy Pop, and produced for the bands Echo and the Bunnymen and X.
Roy Rogers, the modern master of slide guitar, has been nominated for 8 Grammy Awards as a producer, songwriter and performer. He has performed with Carlos Santana, John Lee Hooker, Steve Miller, Bonnie Raitt, and others. Manzarek and Rogers first collaborated in 2008 with the instrumental album Ballads Before the Rain.
###