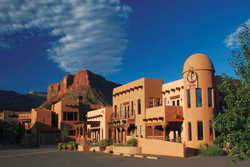 It seems appropriate to sing the blues a little bit
Gateway, Colorado (Vocus) July 20, 2009
Gateway Canyons Resort, located 1 hour southwest of Grand Junction, Colorado, in the red rock canyons of the Dolores River Valley, will both celebrate and memorialize the end of another summer season on Saturday, August 29, with an all-day BBQ Blues event. Although this temperate region of the state will see many more warms days, and the Resort's special event list is long, the pace of life changes when kids are back in school in September. "It seems appropriate to sing the blues a little bit," said Tammy Anderson, Director of Resort Lodging and Guest Experience, "so we will bring in some great blues bands to help christen the stage of our new Mission Bell Amphitheater, and we will have prize-winning barbeque as well." This event will also present information to raise awareness of Batten Disease, a disease that manifests in young children.
Headlining the music slate for BBQ Blues is local Denver blues-guitar legend, Steve Crenshaw. Crenshaw is a guitar virtuoso whose music has been influenced by such blues greats as Freddy King, Buddy Guy and Eric Clapton. Also performing on the Mission Bell stage is Blue Rooster, a popular band out of Steamboat Springs, Colorado, with Brian Ghirardelli on lead vocals and guitar, his father Steve on vocals and bass, and his brother Andy on drums. Flat Top Reed is scheduled to play, and this versatile band is built around the acoustic duo of Paul Harshman and John Anglim out of Grand Junction. Their easy mix of blues, rock and folk appeals to a wide variety of musical tastes.
The music is scheduled to begin at 1:00 pm, but the venue opens at 11:00 am. Individual coolers will not be allowed since food and drink will be available as a part of the event. The entry fee for all day is $25.00, and includes five $1.00 tickets for food. Tickets can be purchased at the Resort, online at gatewaycanyons.com, at King Soopers in Denver, at City Market in the Grand Valley area, and at Smith's in Salt Lake City. Blue Rooster will take the stage to open at 1:00 pm, and a fireworks display will end the evening after Steve Crenshaw, approximately at 10:00 pm.
To perfectly complement a day of outdoor music, Gateway Canyons Resort has lined up some of the best grill-warriors to compete in a barbeque cook-off. Hotel guests, locals, music lovers or even just people passing by on the Historic and Scenic Byway 141 can partake of barbequed ribs, pulled pork, chicken, and brisket. There will also be team displays from the competitors. Gateway Canyons Resort's own famous ribs will be sold in the Pinto Bean Canteen, a mining tent set up in the shade of old growth cottonwoods. Traditional sides such as coleslaw, potato salad, and lemonade will be available, as will beer and wine. A panel of expert judges will select the day's best barbeque, and there will be a people's choice award as well. Judges' results will be announced at 8:00 pm.
The Mission Bell Amphitheater is one of two construction projects that have been underway at Gateway Canyons Resort this summer. This facility, within easy walking distance of the Dolores River Inn and the Kiva Lodge rooms and suites on site, is an outdoor venue designed with a large stage and ample seating for concerts, lectures, weddings and other special events. The second construction project currently in progress is state-of-the-art Palisade Event Center, which will feature a Grand Hall with multi-media functionality, large conference rooms, an HD theater with seating for 56, an art studio, and more.
Lodging is available at Gateway Canyons Resort for those who wish to attend the BBQ Blues event on Saturday, August 29 and either arrive early on Friday, or stay over after the last blues song ends. Special camping permits have been obtained for this event, and for more information or for reservations, call 970 931-2458. Weekend guests can participate in the resort's usual outdoor activities, such as hiking, biking, rafting, climbing, and off-road adventures on ATV rentals. For lodging reservations, call 970 931-2458 or 866 671-4733 toll free. For more information about the barbeque competition or outdoor activities, contact Erin Reece at 970 931-2655 or erin.reece (at) gatewaycanyons (dot) com.
About Gateway Canyons Resort
Gateway Canyons Resort is a premier vacation destination with full amenities, breathtaking scenery, a range of outdoor activities, and the Gateway Colorado Auto Museum. Located one hour southwest of Grand Junction on Colorado Scenic and Historic Byway 141, the resort is easily accessible. Frequent flights are available from Denver and Salt Lake City at the full service Grand Junction Regional Airport. Private planes may arrive in Grand Junction or Montrose. Rental cars and resort shuttles are available. For more information, call 866.671.4733 or visit http://www.gatewaycanyons.com for an online press kit, press releases, and downloadable photographs.
Media contacts:
Rickey Dana, Sales and Marketing Coordinator
Experius
301.755.2061
rickey(dot)dana(at)experius(dot)com
or
Vicky Nash, Public Relations Representative
Resort Trends, Inc. – Tourism & Resort Communications
970.948.4923
Vicky(at)ResortTrends(dot)com
###