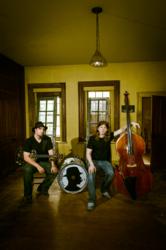 "Whiskey-soaked deep woods field holler for the modern age. Step up to the counter and get your Swamp Candy. It's raw & rockin'. It's dark & dirty. And you don't want it any other way. Delicious. Great record."
- Willie Nile -
Easton, MD (PRWEB) June 18, 2013
Swampcandy, an internationally acclaimed blues duo, will perform an intimate show at the Avalon Theater in Easton, Maryland, on June 28, featuring songs from their latest album, Midnight Creep. The concert will be accompanied by a screening of a documentary that chronicles the making of the album.
Doors open at 7:30pm and the show begins at 8:00pm. Tickets are $15 and may be purchased ahead of time here.
To hear a sampling of the songs that will be performed, click here.
In addition to performing selected tracks from the new album, the duo will screen Sugar Farm Production's documentary of the making of the album, which captures the band recoding on the grounds of Fox Hill Farm and the sixth oldest estate house in Maryland, Holly Hill, with various contributing artists.
"The Holly Hill session ended with a huge garden party with every one dressed in 1920's style," says Ruben Dobbs, guitar and vocals. "We are trying to evolve American Music while keeping the roots intact."
About Swampcandy
Swampcandy is an internationally acclaimed, down-and-dirty duo known for producing foot-stomping blues roots music infused with gypsy and old country influences. Their cross-genre sets create an eclectic mix of honestly-crafted songs that take listeners on a journey of raw emotion and refined sensation —a stimulating blend of percussive finger-style resonator slide guitar and roaring vocals by Ruben Dobbs, along with the thumping kick drum and wild upright bass stylings of Joey Mitchell.
Contact:
Ruben Dobbs
443-510-6561
swampcandy(at)gmail(dot)com
http://www.swampcandy.com/