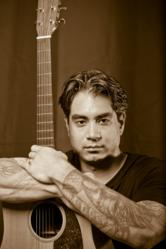 From your first lesson, I will have you playing. And, I will inspire you to keep on playing. The guitar is not an easy instrument to play; but if you aspire to be an accomplished player; I can get you there.
Fort Lauderdale, FL (PRWEB) March 31, 2012
Dyce has a natural on-camera presence, and is a great communicator—verbally, and with his guitar. His powerful, clear approach to the blues focuses on each student's particular needs, goals and abilities. Students appreciate the fact that Dyce isn't a "rock guy playing the blues." He knows the genre, inside and out: Dyce has been playing the blues for 26 years, and this knowledge comes across in his blues Skype guitar lessons.
The blues is important for any aspiring musician. The blues is arguably America's greatest original art form, and is the backbone of all American music—from rock to Top-40 pop, to hip-hop, country, folk, rap, punk, funk, jazz, and more. Its presence is felt everywhere: on the radio, TV theme songs, jingles and movie soundtracks, cell phone ringtones, and the internet. The blues is America's heartbeat, and any guitarist serious about learning their instrument needs to get some blues chops under their belt. Dyce has the passion, knowledge, and teaching ability required to elevate any aspiring student's ability to play blues guitar.
Dyce's Fort Lauderdale guitar lessons and 1-on-1 Skype blues guitar lessons are becoming increasingly popular. For the Skype blues guitar lessons, new students don't need much: just a high-speed internet connection, webcam & mic, and Skype account (easy to create, and free).
For more information on Dyce's guitar lessons call 786-457-3687 today.