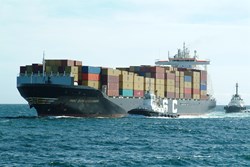 Bluesea Shipping Lines shipping has been providing unparalleled shipping services globally with utmost care, sincerity and diligence.
(PRWEB) February 19, 2013
Worldwide shipping is all set to take another giant leap towards expanding its global shipping service. Adding one more feature to its myriad of shipping services, worldwide shipping recently announced including the remote locations of West Africa in its shipping service itinerary. The services include the faraway lands of Douala, Lome, Boma, Matadi, Libreville, Tema, Tarkoradi, Lagos, Onne and Abidjan.
Basically whenever it is mentioned about any place especially in West Africa, the first thought that strikes the mind is a remote location and a tiresome journey. It is needless to mention the difficulties associated with searching a reliable shipping service to West Africa. Be it for trade or for household accessories shipping requirement to West Africa is as vehement as it is for any other places in the world.
Worldwide shipping provides the ultimate service by satisfying the intricate logistics and freight forwarding requirements of companies and individuals. Uninterrupted delivery of goods, reliable global services and a smooth transaction is what makes worldwide shipping services stand apart from its counterparts. Utmost care and proficiency is maintained for transporting the goods to the required destination in the most convenient way. More importantly, with over 3 decades of expertise in shipping commercial and household goods the company has got well versed with the rules and regulations associated with inter country and continental transportation. Hadn't it been so well versed with the laws and rules of transportation and shipping, it wouldn't have been so established in its services!
Douala, Lome, Boma are the hottest destinations for exports in Western Africa. They are the hub for a number of industries and higher education institutions. Since these places are well connected to prominent local markets, trade and commerce is more pronounced in these West African cities. Ocean cargo provider is the most reliable medium for transporting goods like medicines, machines, gadgets and even vehicles to these places. The profitable aspect of gaining an access over the nascent markets of Africa can only be apprehended by any savvy trader and who can accomplish this task better than a reliable shipping service provider.
Be it the suburbs of Matadi, metropolitan city of Tema or the port city of Lagos, shipping services are an indispensable service for those who are willing to shift to these far off places either for trade or for job. Whatever may be the reason, there are very few reliable sources providing services across such faraway distances and worldwide shipping is undoubtedly one among those few.
The timber region of Liberville, commercial city of center of Ghana, Takoradi and the port city of Onne are the principal commercial locations of this bountiful yet unapproachable place of the world. And who wouldn't yearn to have a trade relation amidst nature's own resources? Commerce is the main reason for which people throng to Africa and this is the vital factor for which there has been a greater demand for shipping in West Africa.
About Bluesea Shipping Lines:
With its inception since the year 1978, Bluesea Shipping Lines shipping has been providing unparalleled shipping services globally with utmost care, sincerity and diligence. Over 30 years of expertise in transporting cargoes and other household accessories this company ensures a hassle free transportation deal in the most economic way. With an appealing global reputation these have strived to be the frontier in providing exceptional shipping services through roadways, airways and waterways.
For now more, visit: http://www.worldwideshipping.com/Shipping_to_West_Africa.php
LAN Services is an Online Marketing partner of Bluesea Shipping Lines, Inc. The webmasters at LAN Services optimize the websites for their customers effectively to increase the visibility in all the major search engines like Google, Yahoo and Bing. At LAN Services, the team ensures that one's website seen by millions of people worldwide.
Contact information:
Bluesea Shipping Lines, Inc
6103 Obispo Ave,
Long Beach,
CA 90805
Tel: [562] 272-4800
Fax: [562] 272-7330
1-800-222-7014
http://www.worldwideshipping.com