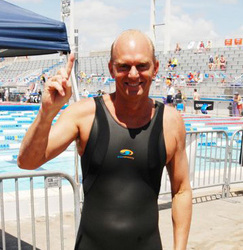 blueseventy has truly gone from zero to 60 in the pool swimming market in just a year
Seattle, WA (Vocus) May 15, 2009
blueseventy, the world's leading maker of wetsuits, swimskins, and other swimming accessories, is pleased to announce their sponsorship of swimming legend and triple Olympic Gold Medal winner, Rowdy Gaines.
"blueseventy has truly gone from zero to 60 in the pool swimming market in just a year," says Roque Santos, V.P. of swimming at blueseventy. "Today, we are very excited to be signing a man we consider to be swimming royalty. Knowing Rowdy personally and now working with him is a great honor. He truly encompasses all that is great about our sport and embodies the spirit of blueseventy."
Back in the sport, and swimming competitively again, Gaines has broken three records in the blueseventy nero comp swimskin, including two National Masters records at the YMCA Nationals in the 50 yard freestyle and 100 yard freestyle and most recently at the USMS Masters Nationals in the 200 yard freestyle.
"I have been involved with this great sport for 35 years," says Gaines. "It is amazing what blueseventy has brought to swimming. I am so proud to be a part of a company that thinks of the athlete first, both young and old."
Under this agreement, Gaines will serve as an ambassador for blueseventy at Masters Swimming Competitions as well at his clinics. In addition, Gaines will work as a close advisor to the blueseventy product development team on innovations in swimskins, goggles and other swim accessories.
Gaines was the fastest man in swimming throughout the early 1980s. At the peak of his career and heavily favored to win five gold medals at the 1980 Moscow Olympics, the U.S. boycott denied him that chance. At the 1984 Summer Olympics in Los Angeles, he capped his phenomenal career with three gold medals and two world records. Displaying his intense perseverance and incredible competitive drive, Gaines' swimming accomplishments are truly remarkable including:

8 Time NCAA Champion
22 Time NCAA All American
17 Time National Champion
8 Time Pan Am Games Champion
11 Time World Record Holder
5 Time World Champion
3 Time Olympic Gold Medalist
Known as the voice of swimming, Gaines has worked with CBS, TNT and ESPN as a regular announcer for swimming and other events, and called his fifth Olympic telecast for NBC at the 2008 Games in Beijing.
The blueseventy/Gaines sponsorship represents the first of several partnerships that will be revealed by the company in the upcoming weeks.
About blueseventy
blueseventy, aptly named to suggest 70% of the earth covered in water, is the world leader in triathlon and open water wetsuits, swimskins and goggles. Since 1993, the Seattle-based company has designed, tested, refined and crafted products using superior materials and revolutionary details that equate to comfort, freedom from restriction and ultimately a competitive advantage in the water. blueseventy products have instilled confidence in beginners as well as carried world-class athletes to victory. blueseventy products can be found in more than 250 retail locations across the U.S. and in 15 countries. For more information, visit http://www.blueseventy.com. The water is open.
Contact:
Julie Atherton
JAM Media Collective
julie (at) jampr (dot) net
415-839-7546
# # #