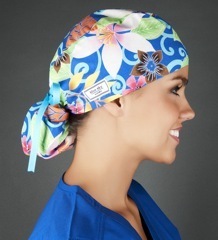 Austin, TX (PRWEB) June 8, 2009
After two years since application, blue sky scrubs has successfully landed two patents for their popular pony scrub hat and one patent for their pixie scrub hat. The patents are estimated to expire in May, 2026. The patents for the pony hat are D572,879 (design patent) and 7,437,777 (utility patent). The pixie patent number is D547030 (design patent.) The applications consisted of detailed description, reasons that they should be considered for patents, as well as design, drawings, and pictures. Acquiring a patent is not simple and can take many years. blue sky scrubs hired Dallas-based law firm, Jackson Walker, LLP to assist in the patent process.
Surgical hats are for use by those who work in sterile environments, such as during surgical procedures. In addition to wearing other sterile clothing such as nursing scrubs, medical scrubs, scrub coats, and other medical apparel, physicians, nurses, technicians, and others who spend time in the operating room are usually required to wear a head covering that conceals all of their hair. Formerly, the state of the art that was available for hair covering options for those with long hair, particularly women, were limited. The most popular style, the bouffant scrub hat, resembles a shower cap, which can be quite unflattering and bulky. Furthermore, the bouffant falls down on the nape of the neck, which can be uncomfortable and get in the way of a stethoscope, which must be worn around the neck.
Before the invention of blue sky scrubs' pony hat, people having short hair had many more desirable options for head coverings. Slim, form-fitting scrub caps that remain off the neck are much more comfortable and flattering, but many women (and men with long hair) were unable to sport these hats due to the shape of the head covering and the inability to conceal all of their hair within it. Therefore, Shelby Marquardt created a modified head covering. Slim and form-fitted, the pony hat is flattering, functional, and conceals long hair in a pouch which is held off of the nape of the neck and held in place with a color-coordinated ribbon for style and flare.
Following the pony tail hat, blue sky scrubs created the pixie hat. The pixie hat is a bonnet-style hat which is less bulky and much more flattering than the bouffant hat. The pixie hat was created for those with shorter hair who could not wear the pony hat, but still desired a more stylish approach to the operating room. Both the pony hat and the pixie hat are now available in hundreds of beautiful fabrics, all which coordinate nicely with just about any nursing scrubs or medical scrubs worn in the operating room.
blue sky scrubs has recently released the poppy hat, which is the blue sky version of the bouffant hat. The poppy hat is for those with either long or short hair, who prefer the classic look of the operating room uniform, but still want to add a bit of color to their formerly drab wardrobe. The poppy hat, unlike the traditional bouffant hat, has a ribbon which can be hidden or can be used to create a pony-tail. The poppy hat may be fairly difficult to secure with a patent, but blue sky scrubs will consider applying for one in the future.
For more information on blue sky scrubs products, including nursing scrubs, medical scrubs, surgical scrub hats for both men and women, visit http://www.blueskyscrubs.com.
# # #