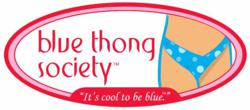 BTS members support Red Cross offices across the country throughout the year
San Diego, CA (PRWEB) September 15, 2011
The American Red Cross is focused this year on an initiative called "Get Tech Ready" in partnership with FEMA. According to The American Red Cross, the internet – including online news sites and social media platforms - is the third most popular way for Americans to gather emergency information and let their loved ones know they are safe. Through the use of everyday technology, individuals, families, responders, and organizations can successfully prepare for, adapt to and recover from disruptions brought on by emergencies and/or disasters.
The Blue Thong Society, an international women's social and philanthropic organization, is composed of more than 300 chapters and 5000 members. Each September they mobilize their membership to support local Red Cross offices across the country. They contribute their time and efforts to National Preparedness Month and other local projects as needed throughout the year. The BTS logo, normally a turquoise blue color, turns RED for the month of September in support of their strategic partnership with The American Red Cross.
"Our partnership with The American Red Cross is very important to us. With 5000 volunteer members we put a lot of "feet on the street" in support of The American Red Cross' leading actions", says Mary Jo Wallo, Blue Thong Society founder.
"Our chapters support The American Red Cross through our GoodWorks™ program, which was mirrored after the Clinton Global Initiative. During September we focus our efforts on Red Cross projects, but throughout the year our chapters across the nation are involved with local charities and communities. Some of our recent projects include the BTS of Staten Island chapter supporting the American Cancer Society, our Temecula, CA Bluecados chapter raised money for a breast cancer resource center, the AZ Flagstaff Pine Thongs chapter, supplied backpacks of school supplies for needy children, and the "TGIF" The Girls in Flipflops chapter in NJ, sent letters to oversees military personnel."
The Blue Thong Society holds local events and each chapter meets monthly. Their national conference for 2012* is a cruise to Cozumel out of New Orleans, which includes workshops, events, and mixers. The event is open to everyone.
About Blue Thong Society (BTS)
Since its inception in 2006, the BTS (bluethongsociety.com & facebook.com/itscooltobeblue ) has grown its unique international women's philanthropic organization to 300 chapters and 5,000+ women. These modern, fun, confident, professional and philanthropic women - connect socially, but with purpose and intent to make the world a better place. Chapters commit to a GoodWorks™ program twice a year and pledge that commitment to the BTS board and membership.
*NOTE: Reserve your space for The BTS 2012 Annual Conference – fully refundable, no obligation – visit our website!
###