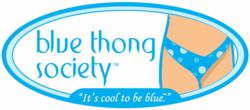 We provide a platform for our members world-wide to reach out and connect to us and to each other.
San Diego, CA (PRWEB) October 13, 2011
The new Facebook landing page launched as part of the BTS's new marketing campaign which began mid-2011. The new page creates numerous links back to their website for details and information on the organization; it's philanthropic and social focus, and membership opportunities. One of Blue Thong Society's marketing goals was to bring a consistent message across all media so new visitors to their Facebook Page will see familiar imagery, video links, and branding. The new landing page incorporates the BTS Mission Statement revised earlier this year as part of the organization's remodeled organizational strategies.
"With our new corporate direction, improved website and now greater social media presence, we hope to provide a strong platform for our members world-wide to reach out and connect to us and to each other, says, Mary Jo Wallo, Blue Thong Society founder. "All our chapters are active on our Blog, Facebook and Twitter pages."
The Blue Thong Society is comprised of more than 300 chapters and 5000 members, including chapters in Canada, Pago Pago, Costa Rica, Puerto Rico and Cape Town South Africa. The Blue Thong Society holds events throughout the year. Their next regional event will be held in Orange County, CA on October 22, 2011, where prominent physicians will speak to attendees about innovative health initiatives for women and new surgical and reconstructive procedures. Event details at http://www.bluethongsociety.com.
Per Mary Jo Wallo, "In addition to our regional events, we hold national conferences. For 2012* we are cruising to Cozumel out of New Orleans. Our conferences allow members from across the country to meet, reconnect, and attend educational workshops, enjoyable activities, and mixers. All our events are open to everyone." See more about the BTS conference at http://www.bluethongsocietycruise.com.
Mirrored after the Clinton Global Initiative, BTS chapters across the nation support the BTS GoodWorks™ programs which benefit others less fortunate. Recent efforts include the Midnight Thongs, Mountain Divas & Blue Blings Chapters in Nevada supporting the "Be The Match" Bone Marrow Registry. The True Blue Chapter in Florida is working with Haley House and the Blue Blings of Spanish Springs is supporting Kids Kottage Protective Shelter.
About Blue Thong Society (BTS)
Since its inception in 2006, the BTS (bluethongsociety.com & facebook.com/itscooltobeblue ) has grown its unique international women's philanthropic organization to 300 chapters and 5,000+ women. These modern, fun, confident, professional and philanthropic women - connect socially, but with purpose and intent to make the world a better place. Chapters commit to a GoodWorks™ program twice a year and pledge that commitment to the BTS board and membership.
*NOTE: Our BTS 2012 Annual Conference is fully refundable, no obligation.
# # #