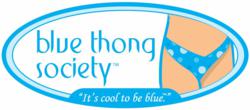 We appreciate Enterprise Rent-A-Car's dedication to the environment
San Diego, CA (PRWEB) December 14, 2011
Enterprise Rent-A Car has been a strategic partner of the Blue Thong Society for 5 years offering rental discounts to BTS members across the country. Enterprise Rent-A Car is an internationally recognized brand that has won numerous awards including named by J.D. Power and Associates as being the "Highest in Rental Car Customer Satisfaction" among North American airport rentals seven times – from 2004 through 2010.
"The Blue Thong Society is all about charitable work and giving back to our communities. We help charities plant gardens, harvest fruit, and clean the beaches, so we appreciate Enterprise Rent-A-Car's dedication to the environment by offering customers the opportunity to rent a hybrid vehicle in more than 30 major markets," says BTS Founder, Mary Jo Wallo.
The Enterprise Rent-A-Car brand offers a wide variety of car leasing, van-pooling, car-sharing and hourly rental programs. Enterprise also has a well-established track record for making rental service convenient and affordable for those who prefer to "buy for the need and rent for the exception." As a result, Enterprise Rent-A-Car launched hourly rentals in 2005 and local car-sharing in 2007 as a natural extension of its business rental program and longtime focus on customized service in communities.
As strategic partners Enterprise Rent-A-Car and The Blue Thong Society have helped communities lessen negative environmental impacts and build connections to others. "Just like Enterprise Rent-A-Car, our chapters have won many awards for their community service," says Ms Wallo. "For instance The "Santeenis" Chapter in Santee, CA was just awarded a Certificate of Appreciation from the City of Santee for their Community Service." Through their GoodWorks initiatives, 250 BTS chapters across the nation get involved with local programs and community projects.
Other recent projects include the BTS Chapter in Tampa supporting the Temple Terrace Elementary School by collecting supplies for local children, while in Ventura, CA chapter members are working with LMVNA who helps cancer patients and family care. The Community Pantry in Hemet, CA is receiving non-perishable food donations from the Hemet chapter, and the BTS members in Three Rivers, CA are assisting the Three Rivers Emergency Aid Alliance with their fundraiser.
The Blue Thong Society holds local events and each chapter meets monthly. Their national conference for 2012* is a cruise to Cozumel out of New Orleans, which includes workshops, events, and mixers. The event is open to everyone.
About Blue Thong Society (BTS)
Since its inception in 2006, the BTS (bluethongsociety.com & facebook.com/itscooltobeblue ) has grown its unique international women's philanthropic organization to 300 chapters and 5,000+ women. These modern, fun, confident, professional and philanthropic women - connect socially, but with purpose and intent to make the world a better place. Chapters commit to a GoodWorks™ program twice a year and pledge that commitment to the BTS board and membership.
*NOTE: Reserve your space for The BTS 2012 Annual Conference – fully refundable, no obligation – visit our website!
###