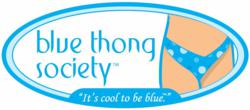 BTS will broadcast a mix of professional and self-produced videos in 2012.
San Diego, CA (PRWEB) January 12, 2012
As part of a planned communications campaign, The Blue Thong Society launches a new video about the organization, its philosophy, and membership policies. Choosing video for their marketing and member education purposes was an easy decision for the BTS. As their social media following on Facebook, Twitter, and YouTube multiplies, the BTS will make good use of the increasingly popular social media vehicle.
Women looking for a social and philanthropic organization, who promotes fun and friendship, can look forward to monthly video updates on The Blue Thong Society's chapter events and social get-togethers as well their vast charitable efforts through the BTS GoodWorks Programs supported worldwide.
The BTS will broadcast a mix of professional and self-produced videos announcing corporate changes, new sponsors and member benefits, as well as news on leading edge women's health and educational topics as requested by BTS members via surveys conducted twice a year.
"The Blue Thong Society is focused on helping their members and others in the community. Our organization is a catalyst promoting connections among women all over the country. We receive weekly heartfelt emails and phone calls from members explaining how the BTS's 'sisterhood' of women helped them overcome hardships and build new friendships. They feel connected, which is what we're all about," said BTS founder, Mary Jo Wallo.
The Blue Thong Society holds local events and each chapter meets monthly. Their national conference for 2012* is a cruise to Cozumel out of New Orleans, which includes workshops, events, and mixers. The event is open to everyone.
About Blue Thong Society (BTS)
Since its inception in 2006, the BTS (bluethongsociety.com & facebook.com/itscooltobeblue) has grown its unique international women's philanthropic organization to 300 chapters and 5,000+ women. These modern, fun, confident, professional and philanthropic women – connect socially, but with purpose and intent to make the world a better place. Chapters commit to a GoodWorks™ program twice a year and pledge that commitment to the BTS board and membership.
*NOTE: Reserve your space for The BTS 2012 Annual Conference – fully refundable, no obligation – visit our website!
# # #