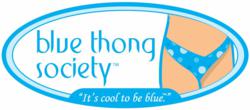 BTS events include professional presentations on various subjects of interest to women
San Diego, CA (PRWEB) March 21, 2012
In addition to the upcoming annual conference cruise, the Blue Thong Society holds regional and local chapter events. Local events on the immediate horizon are in Staten Island on May 16th, and a women's retreat event, "Under the Blue Tent", in New York City on May 19th at Public House, 140 E 41st St. NY, NY 10017 from 5pm to 9pm. The event will include presentations from noted speakers, mixer/networking, and exhibitors (tables available). Event details are listed on the BTS website at http://www.bluethongsociety.com.
"BTS events are always open to the public", says Mary Jo Wallo, BTS Founder, "and they consistently include professional presentations from our sponsors on various subjects of interest to women".
New BTS merchandise is also arriving in March and will be unveiled to attendees at the annual conference. BTS has chosen, Match Resources, a local vendor for their branded merchandise. BTS will bring back some member favorites to their branded clothing line as well as some new items with include wearables for girls as well as a few items for the four-legged friends of the BTS members.
The Blue Thong Society is also expanding their corporate staff adding Joan Joseph, a current BTS Chapter Director, who will focus on PR and membership. The BTS has several volunteer helpers, also BTS members, who keep the organization thriving.
About Blue Thong Society (BTS)
Since its inception in 2006, the BTS (bluethongsociety.com & facebook.com/itscooltobeblue ) has grown its unique international women's philanthropic organization to 300 chapters and 5,000+ women. These modern, fun, confident, professional and philanthropic women - connect socially, but with purpose and intent to make the world a better place. Chapters commit to a GoodWorks™ program twice a year and pledge that commitment to the BTS board and membership.