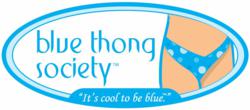 Several members are returning home to invite friends and family to join the organization
San Diego, CA (PRWEB) April 13, 2012
The annual conferences showcase member workshops, a chapter director's retreat and plenty of fun activities including a flash mob (sponsored by Blue Ice Vodka), Bunco game, and their new tradition – a "flip-flop" exchange where attendees bring mostly hand-made flip-flop sandal trinkets to exchange with other members. The new tradition was a big hit with attendees who met many of their fellow members face-to-face for the first time. The conference, held on a cruise ship to Cozumel out of New Orleans, was such a success that several members are returning home to invite friends and family to join the organization and or start new chapters in their areas.
In addition to the upcoming annual conference cruise, the Blue Thong Society holds regional and local chapter events. Local events on the immediate horizon are in Staten Island on May 16th, and a women's retreat event, "Under the Blue Tent," in New York City on May 19th at Public House, 140 E 41st St. NY, NY 10017 from 5pm to 9pm. The event will include presentations from noted speakers, mixer/networking, and exhibitors (tables available). Event details are listed on the BTS website at http://www.bluethongsociety.com.
"BTS events are always open to the public," says Mary Jo Wallo, BTS Founder, "and they consistently include professional presentations from our sponsors on various subjects of interest to women."
New BTS merchandise has also launched this month and is available to everyone!
About Blue Thong Society (BTS)
Since its inception in 2006, the BTS (bluethongsociety.com & facebook.com/itscooltobeblue ) has grown its unique international women's philanthropic organization to 300 chapters and 5,000+ women. These modern, fun, confident, professional and philanthropic women - connect socially, but with purpose and intent to make the world a better place. Chapters commit to a GoodWorks™ program twice a year and pledge that commitment to the BTS board and membership.