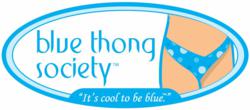 We've helped thousands of women and families and supported charitable groups across the nation for the past 5 years, and we have a lot of fun too!!
San Diego, CA (PRWEB) June 28, 2011
The BTS has been hard at work- but they're also having a lot of fun. Blue Thong Society chapters set charitable goals as part of a bi-annual chapter commitment program called GoodWorks™. Twice a year, women from around the country pick a goal and make it happen, but with a delightful social twist.
The goals are serious and BTS Chapters deliver what they commit to, but they are also committed to enjoying themselves and building friendships. It's a founding credo of BTS that members accomplish charitable goals with like-minded women who enjoy each other's company.
The BTS GoodWorks™ program was modeled after the Clinton Global Initiative, a hugely successful NGO that requires its members (who pay handsomely for the privilege) to pledge a social commitment to former President Clinton, the CGI board and the entire membership. "There's nothing more powerful than a pledged commitment, and here at Blue Thong Society it's the basis for everything we do and guides our Chapters to work toward an important goal," said Mary Jo Wallo, who founded Blue Thong Society in 2006.
Goodworks™ pledges can range from aiding a family in need to rebuilding a community center or supporting a local soup kitchen or animal shelter. Whatever the Goodworks™ pledged by a BTS Chapter, it's a commitment taken very seriously.
"Pledged commitments in our GoodWorks™ program deliver real results," said Ms. Wallo. "We've helped thousands of women and families and supported charitable groups across the nation for the past 5 years, and we have a lot of fun too!! We are a social network and a resource for women aged 21 and over. Through our sponsors and strategic alliances we offer our members up to date health and wellbeing information both online and through in-person workshops. We also offer an internal communication portal (like a private Facebook page), called "BTS Connect", so our members can connect and communicate with other BTS members across the country."
Ms. Wallo adds, "Our national conference for 2012 is a cruise to Cozumel out of New Orleans. So bring a friend and join us for "Thongs on the Bayou" 2012 Annual Conference*. You'll have great time, make new friends, and help us make a difference in the world. We'll see you there!"
About Blue Thong Society (BTS)
Since its inception in 2006, the BTS (http://www.bluethongsociety.com & http://www.facebook.com/itscooltobeblue ) has grown its unique international women's philanthropic organization to 300 chapters and 5,000+ women. These modern, fun, confident, professional and philanthropic women - connect socially, but with purpose and intent to make the world a better place. Chapters commit to a GoodWorks™ program twice a year and pledge that commitment to the BTS board and membership. Membership is by invitation only.
*NOTE: The BTS 2012 Annual Conference cruise early-bird sign up offer ends July 6th!!! Reserve your space now – fully refundable, no obligation!
###