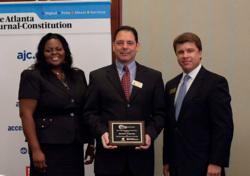 It is a great honor to have received this award for four consecutive years.
Atlanta, GA (PRWEB) June 12, 2011
BlueWave Computing, LLC, an Atlanta-based IT services firm, was selected this week as one of the Top 25 Small Businesses of the Year by The Atlanta Journal Constitution and Cobb Chamber of Commerce. Businesses were nominated earlier this year, and after a review by an independent panel of judges, BlueWave Computing was selected as one of the Top 25 companies. This marks the fourth consecutive year BlueWave has been named among the top 25.
Candidates were evaluated based on the criteria used by the US Small Business Administration including staying power, growth in number of employees, increase in sales or unit volume, current and past financial standing, innovative products and services, response to adversity, evidence of contributions to aid community projects and overall management philosophy.
Dr. Steven Vicinanza, BlueWave CEO says, "It is a great honor to have received this award for four consecutive years. Over that time we have shown consistent growth and are now one of the largest IT service providers in the Atlanta area that serves other similar sized businesses."
With this award, BlueWave adds to an impressive track record that includes a commendation from the Georgia State Senate, multiple years on the INC Magazine Top 5000 business list and the coveted Atlanta Consumer's Choice Award for IT services.
About BlueWave Computing, LLC
Since 1997, BlueWave Computing has helped growing businesses take back control of their IT resources and align IT with their business objectives. Based in Atlanta, BlueWave provides a complete turnkey IT department for small and mid-size firms with a full complement of services including: IT planning and CIO, managed services (application hosting, online-backups, remote monitoring, business continuity), help desk, IT support, electronic marketing, and application development. These services are offered as part of a fixed monthly budget that's affordable for smaller companies with 10 to 300 employees.
# # #