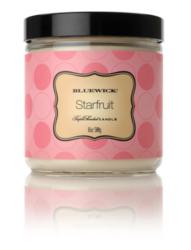 Bluewick candles burn slower and cleaner than competing candles and the fragrances are deliciously pleasing!
Glens Falls, NY (PRWEB) May 08, 2012
Bluewick Candles are the latest addition to Kerry Lyn's Boutique both in store and on their website. Bluewick has specialized in dazzlingly fresh fragrances fashioned from complex blends of natural ingredients, all captured in pure soy wax candles and luxurious body care products. Soy wax candles make for longer burn times, less smoke and soot, and greater indulgent fragrance. This makes for a cleaner burning candle that will embrace your senses but will not overpower the area.
Kerry Lyn's Boutique started with Bluewick's most popular aromas, mostly comprised of piquant citrus and lush fruits. The candles are offered in two sizes, a 16 oz eco jar and a 2 oz travel tin. The glass 16 oz jar is tested to have roughly a 90 hour burn time where as the travel tins have approximately 20 hours of burn time. Bluewick is proud to state that their products are made from environmentally friendly packaging and natural ingredients.
The Citrus Green Vanilla Soy Candle quickly became a hit with customers. The fresh lemon scent with the sweetness of vanilla is very pleasing to the senses and makes for a wonderful addition to any room. This candle is part of the Tarro collection and is made from a special all vegetable based dye and dilutant free wax formula which lends itself to exceptional burn and fragrance throw.
Starfruit in the Groove Everyday Collection, is the ultimate tropical temptation, a sun-kissed assortment of summery scents that conjure images of white beaches, lush jungles, and cyrstal blue lagoons. Bluewick gathered up the sweet trio of passionfruit, guava, and mango for an undeniably succulent combination.
Candle lovers owe it to themselves to try out the Bluewick products!
Kerry Lyn's Boutique is located in Aviation Mall, Queensbury, NY 12804 and currently offers Vera Bradley, Crabtree & Evelyn, Baggallini, Harveys Seatbelt Bags, Bluewick Candles as well as jewelry. The boutique reaches customers in Glens Falls, Lake George, Hudson Falls, Ticonderoga, Warrensburg, Bolton Landing, Fort Ann, Saratoga Springs, Malta, Lake Luzerne, and other surrounding areas. Follow Kerry Lyn's Boutique on Facebook and Twitter for some great in-store and online deals. There is a newsletter sign up to be notified of any specials, promotions and giveaways as well.