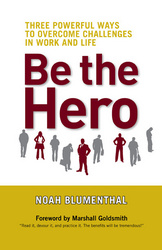 I'm thrilled that we accomplished our goals of making the Wall Street Journal and Amazon bestseller lists
New Hyde Park, NY (PRWEB) August 20, 2009
The engaging new business parable, Be the Hero: Three Powerful Ways to Overcome Challenges in Work and Life (Berrett-Koehler Publishers; August 2009; $19.95), by author and Hero Coach, Noah Blumenthal, hit the Wall Street Journal Business Bestseller list and #1 on Amazon's Business and Investing, Health, Mind & Body, Success, Business Life, Self-Help, Job-Hunting & Careers Bestseller lists just days after its release. It even reached as high as #19 on Amazon's overall Bestseller list, surpassing pop-culture books like Harry Potter and the Deathly Hallows by J.K. Rowling and perennial business bestsellers like Outliers, by Malcolm Gladwell.
In an effort to give back, Mr. Blumenthal engaged a charitable campaign where, based on achieving Amazon bestseller status on August 4, 2009, he is donating 50% of the royalties from the sale of his book from that week to the Miami Children's Hospital Foundation in Miami, FL. To further support the efforts of the Miami Children's Hospital, Mr. Blumenthal has generously agreed to donate 10% of the royalties for Be the Hero for the life of the book.
"I'm thrilled that we accomplished our goals of making the Wall Street Journal and Amazon bestseller lists," said Mr. Blumenthal, named one of the World's Top 100 Minds in Personal Development by Leadership Excellence Magazine. "I'm also gratified that so many people around the world are enjoying learning the lessons of the book and are finding value in putting them to use in their professional and personal lives."
Since hitting both bestseller lists, over two dozen publishers from around the world have inquired into purchasing foreign translation rights for Be the Hero, and plans are already in the works to release the audio version of the book.
In Be the Hero, Mr. Blumenthal introduces us to the way of the 'Everyday Hero' and shows how to turn self-defeating thoughts and behavior into heroic actions. He brings to life the entertaining and inspiring tale of a struggling young professional who moves from victim to hero. Through his story, we learn how to become the hero in our own lives.
Mr. Blumenthal shows that we are all master storytellers. Every time we interpret the events of our life, we are telling a story. Our stories are vivid, detailed and convincing. These aren't the stories we tell around the water-cooler or the campfire. They are the stories we tell ourselves--the ones that rattle around in our heads and move us to emotions and actions.
"These stories are so powerful: they make us think and act like either a hero or a victim," said Mr. Blumenthal. "If we don't pay attention, these stories can take us down the victim path--blaming, frustrated and helpless. But at any moment, we have the power to identify and change these stories. We can choose the right stories that lead to personal and professional success--the ones that enable us to become 'Everyday Heroes.'"
Mr. Blumenthal offers a universally accessible technique for overcoming inertia and anger to become consistently more positive, productive, and happy at home and at work. He does not suggest that we simply see the world through rose-colored glasses, rather, that we shift our perspective and see it through an entirely new lens.
"We all create the stories of our lives and live them accordingly. If you master your stories--if you tell hero stories--they can make you feel happy and relaxed and even make you more effective and successful. It's up to us to rewrite our stories and position ourselves as the hero. Hero stories open up new possibilities and spur us to action," said Mr. Blumenthal.
For more than ten years, Mr. Blumenthal's clients in the Global and Fortune 500, top universities and not-for-profits have all benefited from his system for personal and professional change.
For additional information on Noah Blumenthal or Be the Hero, visit http://www.be-the-hero.com. Be the Hero can be purchased online or at major bookstores nationwide.
ABOUT NOAH BLUMENTHAL
Noah Blumenthal is one of the World's Top 100 Minds in Personal Development as named by Leadership Excellence Magazine. He is the author of Be The Hero: Three Powerful Ways to Overcome Challenges in Work and Life and You're Addicted to You: Why It's So Hard to Change--and What You Can Do About It. Noah is the founder and president of Leading Principles, Inc., http://www.leadingprinciples.com, an executive coaching and consulting company. He specializes in the development of exceptional leaders and teams, helping them find new perspectives and build personal accountability so that they are more confident, energized, and productive in their work. With over a decade of experience counseling Global and Fortune 500 companies and top universities, Mr. Blumenthal helps organizations and individuals increase their performance and surpass their goals.
# # #