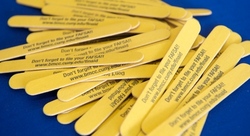 The financial aid process is not as difficult as students might think.
New York, NY (Vocus) March 16, 2010
According to Howard Entin, Director of Financial Aid at Borough of Manhattan Community College (BMCC), the number of students applying for financial aid at the college, "is up about 15 to 20 percent over the last year."
Federal data* and universities.com ranked BMCC #6 in the country for the dollars dispersed in PELL Grants (a federal grant program in which financial need is determined by the U.S. Department of Education using a standard formula established by Congress) and #8 in the number of students receiving these grants.
"The only schools that ranked ahead of BMCC were proprietary schools like University of Phoenix and Kaplan University," said Entin. "BMCC followed behind distance-learning type schools. This is pretty impressive."
Financial Aid office reaches out to BMCC students:
The financial aid application is called FAFSA: the Free Application for Federal Student Aid. The federal government uses FAFSA to determine a student's eligibility for federal financial aid, which includes grants and scholarships.
For the 2010-2011 academic year, the BMCC Office of Financial Aid sent out roughly 24,000 emails to students, which Entin called, "an aggressive campaign," reminding them to file for federal aid and complete their FAFSA forms.
"A combination of environmental factors, such as the increase in the number of students here, our emails, extended Web Lab hours and our Web site are ways that we try to make it easier for every eligible student to receive financial aid," he said.
This year's FAFSA deadline at BMCC is April 15th. With help from the Office of Financial Aid, students can also file for Work Study, supplemental grants, student loans and even the TAP (Tuition Assistance Program) application.
Financial Aid Awareness Day:
Financial Aid Awareness Day, which was recently held in BMCC's Richard Harris Terrace, gave students the opportunity to learn about the many different resources available to help pay for college, via grants, loans, Work Study and scholarships.
Since so many BMCC students juggle jobs, homework, classes, commuting and home life, it can be tricky to find time to stop by the Financial Aid office, which is why Financial Aid Awareness Day was so beneficial.
At the event, representatives from the Financial Aid office thoroughly answered BMCC students' inquiries about FAFSA, TAP and scholarship opportunities.
"Financial Aid Awareness Day ran until 6:00 p.m., which gave us a chance to capture both day and evening students," said Entin. "We wanted to show the students that filing for financial aid can be fun and the people who work in the Financial Aid office are dedicated solely to their success and getting students through the process."
According to Kelly Abdel, Coordinator of Outreach Services in the Financial Aid Office, at the event, more than 1,000 students stopped by for assistance with their FAFSA worksheet, filing their FAFSA on the Web, and more.
"In reviewing more than 400 completed surveys from Financial Aid Awareness Day, the vast majority of students were extremely pleased with how it went," said Abdel. "In addition, many students made thoughtful suggestions we plan to implement at future financial aid events."
File early and often:
Entin wants students to recognize the importance of filing early for FAFSA—in fact, the earlier, the better. "There's an expression: Vote early and often. We're, 'File early and every year'," said Entin. Some of the benefits of filing early include: avoiding the long financial aid lines during registration, getting financial aid credited to your tuition bill automatically and receiving a PELL Grant book the first week of classes.
Thanks to technology, and the power of the Web, applying for financial aid has become a much smoother process over the years. The U.S. Department of Education (DOE) has made a number of enhancements to the FAFSA Web site and even partnered up with the Internal Revenue Service (IRS), allowing students and their families to transfer their income information directly from their income tax returns on to the FAFSA by simply checking a box.
"Filing costs nothing and you can always come to the Lab or visit us at the counter," said Entin of his department. "Our office is getting the word out and getting the response from students. I think it's important for students to know that the financial aid process is not as difficult as they might think."
*Source: Federal Student Data Center Programmatic Volume Report, 2009
Borough of Manhattan Community College (BMCC) enrolls over 22,000 degree-seeking and 10,000 Continuing Education students a year. The largest community college in The City University of New York (CUNY) system, BMCC has students from more than 155 countries, and awards associates degrees in over 27 fields.
###