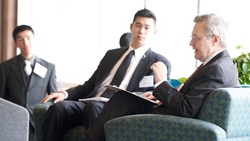 If you have a mentor, you minimize your risks in the working world because you have someone to advise and guide you.
New York, NY (Vocus) April 21, 2010
Just because the economy's on a gradual road to recovery does not mean budding businesses should be halted.
Borough of Manhattan Community College (BMCC) students recently learned that it's never too late to start a business—especially if you have the determination, the drive and the willingness to take risks.
Drawing attention, and enthusiasm, for the professional world, yesterday, Dr. Carmen Martínez-López, Associate Professor and Deputy Chair of the Business Management department, oversaw and helped organized BMCC's fourth annual Entrepreneurship Student Summit.
The Summit kicked off at the Richard Harris Terrace room with a welcome by students Diena Ganesh and Eric Adler of the Business Enterprise Club, who explained to the audience of students and staffers the differences between entrepreneur and intrapreneur.
An entrepreneur is self-employed, willing to start his or her own company from scratch, possesses the capability to be 'their own boss,' and decides what services to provide the public.
An intrapreneur is a sole employee within an organization, and generally, as an individual, does not provide a service to the public. Many times, an intrapreneur, who works as part of a team within a larger company, eventually becomes an entrepreneur.
Pérez preaches business advice
BMCC President Antonio Pérez spoke at the Summit, first reminding the audience that business decisions and transaction occur at the college, every day.
"BMCC is full of entrepreneurs. Our faculty produces a product when they are on sabbatical or leave," he said. "Entrepreneurships take place throughout this institution. It's something we encourage that has a positive impact on the college."
Pérez said that aspiring entrepreneurs must be willing to take risks in order to succeed. "Think back to when you were 10," he said. "Anything was possible. When starting a business, you have to think that way."
BMCC is always advertising throughout Manhattan, he said, because "we believe in marketing. You get on a subway or a platform, and you see BMCC. We market because we're the premiere urban community college."
Students practice their interviewing skills
Part of working in the real world is not only being able to interview for jobs, but also interviewing others.
At the Summit, individual students from the Business Management department lead a question-and-answer session with a professional entrepreneur. The student interviewers were confident and poised while addressing the guest speakers, asking them questions about minorities in the job market, how to market a new company in today's economy, and to stay positive in a competitive world.
"The students who interviewed the entrepreneurs and intrapreneurs worked diligently with faculty and staff to create the interview questions, and they devoted a great deal of time to meeting face to face or via phone with the executives they interviewed," said Martinez-Lopez.
BMCC business marketing major Christopher Kwak interviewed James Garvin, director of BMCC Association. Garvin said it's important to understand that in the business world, not everyone will understand what you are saying. "People have different learning styles. There are a lot of different methods of delivering material."
Kwak, who plans on eventually attending a 4-year college after BMCC, said interviewing Garvin was helpful and informative because, "it's important to talk to someone in the field, who has years of professional experience."
Have a mentor
Abraham Kim, owner and manager of Pelham Cleaners in New Rochelle agrees that having an industry mentor speaks volumes. "If you have a mentor, you minimize your risks in the working world because you have someone to advise and guide you," he said.
Kim said you can't run any business without being "busy." In fact, he works 13-hour days sometimes. "If you're not busy doing your business, stay home," he wisely advised the audience. "Running a successful business takes time and energy and I had to take many risks in the past 20 years."
When a BMCC student asked Kim about his work ethic and motivation, especially as a minority business owner, Kim said his passion for his mother country of Korea drove him to, "be successful and work hard."
Borough of Manhattan Community College (BMCC) enrolls over 22,000 degree-seeking and 10,000 Continuing Education students a year. The largest community college in The City University of New York (CUNY) system, BMCC has students from more than 155 countries, and awards associates degrees in over 27 fields.
Contact: Rachel Sokol
212-220-8501
http://www.bmcc.cuny.edu
###