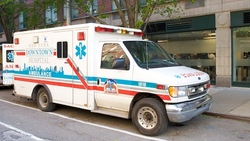 BMCC is the first nationally accredited paramedic program in New York State
New York, NY (Vocus) May 21, 2010
BMCC's Center for Continuing Education and Workforce Development, in partnership with New York Downtown Hospital gave a new home to the suddenly displaced, 29th graduating class of the accredited paramedic education program at just-closed St. Vincent's Hospital.
"BMCC rescued the program," says John Bray, former Director of the Institute of Emergency Care at St. Vincent's Hospital, which shut its doors this past April.
Students who complete the renamed BMCC/New York Downtown Hospital paramedic program will be eligible to sit for the New York State Paramedic Certification Exam, and once they're licensed, can apply to BMCC and receive up to 30 credits toward an Associate in Applied Science degree, according Everett Flannery, Chairperson, Department of Allied Health Sciences at BMCC.
"BMCC is the first nationally accredited paramedic program in New York State," says Dr. Frank Mineo, EMS Program Director at BMCC who has worked as a paramedic himself, for over 30 years. In addition to hands-on instruction that covers out-of-hospital, medical emergencies, he explains, students complete classes in English composition, math, anatomy and other subjects.
The paramedic classes are now held at New York Downtown Hospital, where Tony Suarez, Director of Emergency Medical Services and Emergency Preparedness, oversees the students' focus on emergency, cardiology and other procedures.
They also complete medical rotations under the supervision of a doctor or nurse preceptor, shadow nurses in the Intensive Care Unit—and even assist in delivering babies in the obstetrics ward. Putting what they learn to work, they log in 100 hours riding in the back of an ambulance, providing assistance and observing experienced paramedics.
Paramedics benefit from job opportunities which, according to the U.S. Bureau of Labor Statistics, will increase 9% from 2008 to 2018, a growth rate reflecting increased emergency call volume, as a large segment of the population ages, and increased travel time to reach specialized hospitals—or those more widely dispersed, geographically, because of closures.
Borough of Manhattan Community College (BMCC) enrolls over 22,000 degree-seeking and 10,000 Continuing Education students a year. The largest community college in The City University of New York (CUNY) system, BMCC has students from more than 155 countries, and awards associate degrees in over 27 fields.
###