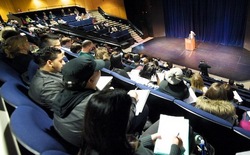 We remain in the top ten schools in the nation, in the production of graduates from under-represented groups.
New York, NY (Vocus) February 18, 2010
"In the toughest times since the Great Depression," said Borough of Manhattan Community College (BMCC) President Antonio Pérez in his State of the College Address on February 16, "community colleges are receiving attention for the critical role they play in responding to a great national need."
"We remain in the top ten schools in the nation in the production of graduates from under-represented groups, particularly in business and technical programs," he added, noting that since Spring 2007, there has been an almost 20% increase in applicants, and BMCC had to close its doors early for admission last fall and this spring—for the first time in the College's history.
New degrees for a new world
Two new dual degree programs, announced President Pérez, have been developed with John Jay College of Criminal Justice: one in Forensic Science, and another in Criminal Justice. A Forensic Accounting degree has been developed with John Jay's Economics program; a proposed degree in Biotechnology linked to York College was just approved by the Committee on Academic Policy, Program and Research, and a degree in Geographic Information Science will soon be offered by BMCC's Computer Information Science Department, in combination with the Social Sciences and Human Services Departments.
$2.9 million closes the gap to online options
A Title V, $2.9 million dollar grant is now in place to improve BMCC's online opportunities. A full-time e-Learning Director, additional staff and support services will ensure that students struggling to meet work and family responsibilities take full advantage of online courses.
BMCC has the largest percentage of online and hybrid e-learning courses among all the CUNY community colleges, and the BMCC library has tripled its electronic book collection—which now houses 190,000 e-books, and nearly 6,000 videos.
Initiatives for student success raise the pass rate
Steps Toward Academic Readiness and Success (STARS), provides academic advisement support before students even start classes, and Peer Academic Leaders (PALS), guide their fellow students in the early steps to joining the BMCC experience.
Under the Coordinating Undergraduate Education (CUE) program, Paired Learning Communities link developmental courses with credit-bearing courses, and the Navigating Through College to Success program embeds advisement in developmental courses, keeping students on track as they raise their skills to succeed.
As a result of these and other efforts, the BMCC student pass rate on the College Proficiency Exam (CPE), which precludes graduation, has a pass rate of 93%, the third highest in all of CUNY.
Financial aid expands as student dollars shrink
Since 2009, the BMCC Financial Aid Office has experienced a 27% increase in students filing for financial aid, and 12,000 students in the Winter 2010 semester alone received Pell Advance payments to assist in the purchase of books and supplies—a 46% increase over last year.
The BMCC Academic Advisement and Transfer Center, the Department of Student Life's counseling and advisement services, and the Center for Career Development have been expanded, and students benefit from an expanded registration grid which provides access to classes on Fridays, evenings and weekends.
Strategic leadership and grantwriting brings in $6 million
BMCC, which recently demonstrated its organizational effectiveness to the Middle States Commission on Higher Education, met all required standards for accreditation, and a new Office of Institutional Effectiveness and Strategic Planning was formed to ensure evidence-based decisions inform the College's new plans.
Also, more targeted fundraising efforts have produced over $6 million annually over the last few years, and the creation of a Dynamic Customer CARE staff development program has trained over 300 front-line staff in providing better service to BMCC students.
Continuing education: New certificate programs link to real jobs
"In the past 18 months," said President Pérez, "too many of us have experienced, first-hand, the City's historic unemployment rates across many job sectors."
In response, BMCC's Center for Continuing Education and Workforce Development has created certificate training programs linking students to jobs in growing health care and technical industries.
BMCC's newly renovated Workforce Training Center at 25 Broadway in Lower Manhattan features state-of-the-art labs, and "Smart" classrooms. In addition, partnerships with local employers for internships and job referrals have been developed.
BMCC's efforts attract gifts from local benefactors
Despite New York City's current economic environment, BMCC recently received a $100,000 gift from the Bank of New York Mellon, a gift of $200,000 that enabled improvements to campus electronic signage, a $105,000 gift from the New York Community Trust, and a $1.4 million Child Care Access Means Parents in School grant to the BMCC Early Childhood Center.
"Students come to us from all over New York City and the world," said President Pérez, before closing his Address. "It is our responsibility and privilege to serve these students."
Borough of Manhattan Community College (BMCC) enrolls over 22,000 degree-seeking and 10,000 Continuing Education students a year. The largest community college in The City University of New York (CUNY) system, BMCC has students from more than 155 countries, and awards associates degrees in over 27 fields.
# # #