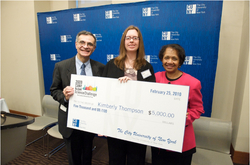 Thompson's award-winning essay is on Nobel prize winner Elinor Ostrom.
New York, NY (Vocus) March 13, 2010
Borough of Manhattan Community College (BMCC) science major Kimberly Thompson just won first place in the economics category of the 2009 CUNY Nobel Science Challenge—as well as $5,000 as an overall Grand Prizewinner.
Thompson--the contest's only awardee from a community college--wrote her award-winning essay on the Nobel-prizewinning work of Elinor Ostrom, who proposed eight basic tenets relating to sustainable common-pool (shared) resources.
"A key component to Ostrom's work," writes Thompson, "is an interdisciplinary approach; her research and publications draw from conservation biology, ecology, psychology, and economics, among others."
Altogether, 12 CUNY undergraduates received awards in the CUNY-wide contest for their essays based on 2009 Nobel prize-winning work in chemistry, physiology and medicine, physics, and economics.
First, second and third prizes included an Apple iMac Computer, a Dell Mini 10 Netbook, and an Amazon Kindle, and were presented at an award ceremony sponsored by the Office of the Vice Chancellor for Research, Professor Gillian Small, at CUNY's central offices on East 80th Street in Manhattan.
Over 100 applicants wrote about the science behind the 2009 Nobel prizes, and how it impacts on humanity. The impetus for the competition, said Vice Chancellor Small, came about when the 2009 Nobel winners were announced, and she was reading a recent book of essays, Unscientific America, How Scientific Illiteracy Threatens our Future.
"There is a distressingly large number of Americans who refuse to accept even the theory of evolution," said Small, who created the competition to make Nobel work in science accessible to a larger audience.
Kimberly Thompson was announced as the surprise grand prizewinner at the end of the ceremony, elation alternating with stunned disbelief as she posed holding the giant, sweepstakes-style CUNY check made out for $5,000.
"I plan to put it toward school," she said.
Borough of Manhattan Community College (BMCC) enrolls over 22,000 degree-seeking and 10,000 Continuing Education students a year. The largest community college in The City University of New York (CUNY) system, BMCC has students from more than 155 countries, and awards associates degrees in over 27 fields.
# # #