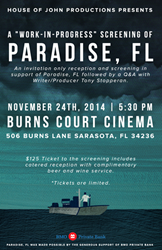 We are pleased to support feature film production in our community through Ringling College's project-based learning, especially when the film storytelling medium allows artists to express their creative license
Sarasota, FL (PRWEB) December 03, 2014
BMO Private Bank and Ringling College of Art and Design sponsored an invite-only work in progress screening last week to a standing room only audience of the locally-shot, produced and financed film 'Paradise, FL'.
'Paradise, FL' tells the story of a struggling oysterman who finds himself fighting for the family he didn't know he needed while hiding from his personal demons behind an Oxycodone addiction.
The film is directed by Ringling College alumnus Nick Morgulis and was written and produced by Tony Stopperan and cast by Adrienne Stern Casting. Kristopher Higgins (Devil's Knot) stars as a husband and father caught between two women, his mistress Kelly, played by Lauren Sweetser (Winter's Bone) and his wife Maggie, played by Heather Robb (Stake Land), each a mother of one his children. Jon-Michael Miller (MTV's One Bad Choice) makes his feature debut as Tommy, who moves in to help Sean put his family together after Maggie's suicide attempt. With the help of Koko, played by Mary Mara (Ray Donovan), Tommy must overcome past demons and current addictions to keep his newfound family from falling apart.
"It was gratifying to see the progress made with the film to date," said Monica Christopher, Vice President Community Affairs for BMO Financial Group, a key film production sponsor. "We are pleased to support feature film production in our community through Ringling College's project-based learning, especially when the film storytelling medium allows artists to express their creative license."
'Paradise, FL' is the second feature film since 2013 that has utilized a summer production model benefitting Ringling College filmmakers and FSU/Asolo actors. "Many people do not have an understanding of how difficult it is to produce one feature film, let alone two in a year. Neither would have been possible without the generous support of BMO Private Bank, who saw the value of supporting young filmmakers and actors," said 'Paradise, FL' writer and producer Tony Stopperan. "A project of this scale and scope can be the turning point in an artist's career."
BMO Private Bank's support for 'Paradise, FL' helped give real-world project-based learning to 17 Ringling College students and recent graduates, and SAG-AFTRA feature film credits to seven FSU/Asolo Conservatory trained actors. Combined, the generous support of BMO Private Bank for the two summer film projects has helped provide feature film experience to over 50 Ringling College filmmakers and 15 FSU/Asolo actors.
Attendees at the work in progress screening had the opportunity to mix with other film lovers, see an early cut of the film in its entirety and discuss the film with director Nick Morgulis and writer/producer Tony Stopperan.
'Paradise, FL' is a House of John Production in association with Victor Young of Media & Management Global and TriForce Pictures. Production is sponsored by BMO Private Bank and Ringling College of Art and Design. Visit http://www.paradiseflmovie.com for more information on the film.
"When you have nothing left to lose, you might find something worth fighting for."
About BMO Private Bank, a Part of BMO Financial Group:
BMO Private Bank offers a comprehensive range of wealth management services that include investment advisory, trust, banking and financial planning to meet the financial needs of high net worth clients. Through integrated teams of experienced financial professionals, BMO Private Bank helps its clients realize their financial and lifestyle goals with solutions that are custom tailored and delivered with the highest level of personalized service. BMO Private Bank is a brand name used in the United States by BMO Harris Bank N.A. Member FDIC. Not all products and services are available in every state and/or location. BMO and BMO Financial Group are trade names used by Bank of Montreal. (https://www.bmo.com/privatebank/us)
About Ringling College of Art and Design
Ringling College of Art and Design is a private, not-for-profit, fully accredited college offering the Bachelor's degree in 14 disciplines: Advertising Design, Business of Art & Design, Computer Animation, Digital Filmmaking, Fine Arts, Game Art & Design, Graphic Design, Illustration, Interior Design, Motion Design, Painting, Photography & Digital Imaging, Printmaking, and Sculpture. Located in Sarasota on Florida's Gulf Coast, the picturesque 48-acre campus now includes more than 110 buildings, and enrolls nearly 1,300 students. It is recognized as being among the best and most innovative visual arts colleges in the United States as well as a leader in the use of technology in the arts. (http://www.ringling.edu)