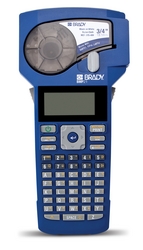 Lots of features in a small package. Easy to add to your bag of tricks and plenty of options to do almost every job
Milwaukee, Wis. (PRWEB) October 26, 2009
Brady Worldwide, Inc.(NYSE: BRC) recently announced the launch of its newest handheld label maker, the Brady BMP™21 Portable Label Printer. Designed for the electrical, voice/data comm, and general industrial markets, the BMP21 Portable Label Printer is a thermal transfer printer that creates legible, high-performance labels for harsh working environments. With one-handed operation and convenient multifunctional accessories, the BMP21 printer is an easy-to-use, versatile label maker - complete with an impressive variety of label types and sizes.
The BMP21 Label Printer offers a number of new user-friendly features that make it easy to operate; in fact, this label maker can be fully operated with only one hand. It has a dual cutter that functions with simple push buttons, which eliminates user fatigue and allows for one-handed cutting. The dual cutter also has a new label retention feature, which keeps the label from falling on the floor after it is cut - a much-needed solution for ensuring the labels stay organized on the job site.
The BMP21 portable printer also offers new capabilities like automatic data serialization, internal memory storage and retrieval, and automatic font sizing and label formatting. The labeler features more than 80 different built-in symbols, graphics and barcodes specific to its targeted industries, including 13 voice/data comm. symbols, 19 electrical symbols and 48 general identification symbols. To learn more about the new features of the BMP21 Label Printer, view the BMP21 Label Printer demo video.
Designed for maximum usability, the BMP21 Portable Label Printer can be purchased with several accessories that expand the functionality of the printer. For example, there is a magnet accessory that can be affixed to the label printer, giving professionals the option to attach it to panels, I-beams and other magnetic-receptive surfaces during use or storage. Another multifunctional accessory is available with a built-in flashlight for seeing in dark spaces. When used with the labeler's new backlight feature on the display screen, the flashlight accessory makes it possible to create labels in areas with little to no lighting.
The BMP21 Portable Label Printer offers Brady's widest variety of label types and sizes for a handheld labeler. In addition to the standard nylon, polyester and indoor/outdoor vinyl labels, this label maker can print on PermaSleeve™ heat shrink sleeves and self-laminating vinyl up to 1.5" wide. Its labels adhere to irregular, curved or highly textured surfaces, and many can stand up to grease, oil and most industrial chemicals.
With such a wide variety of custom label materials, the BMP21 label printer can create labels for cables and wires, pipes, tools, bins, containers, faceplates, electrical panels, patch panels, terminal blocks, instruments, racks and more.
The BMP21 Label Printer is an all-in-one labeling tool, according to Mark Boettcher of Production Resource Group in Florida. "Lots of features in a small package. Easy to add to your bag of tricks and plenty of options to do almost every job," said Boettcher.
For more information on the BMP21 Portable Label Printer, including the online BMP21 Printer Product Simulator, demo video and more, visit the BMP21 Printer webpage.
About Brady Corporation:
Brady Corporation is an international manufacturer and marketer of complete solutions that identify and protect premises, products and people. Its products include high-performance labels and signs, safety devices, printing systems and software, and precision die-cut materials. Founded in 1914, the company has more than 500,000 customers in electronics, telecommunications, manufacturing, electrical, construction, education, medical and a variety of other industries. Brady is headquartered in Milwaukee and employs more than 7,000 people at operations in the Americas, Europe and Asia/Pacific. Brady's fiscal 2009 sales were approximately $1.2 billion. To learn more about Brady's complete line of products and offers visit bradyid.com. In Canada visit bradycanada.com.
# # #